Only about 4% of NY assault rifles are registered, new stats suggest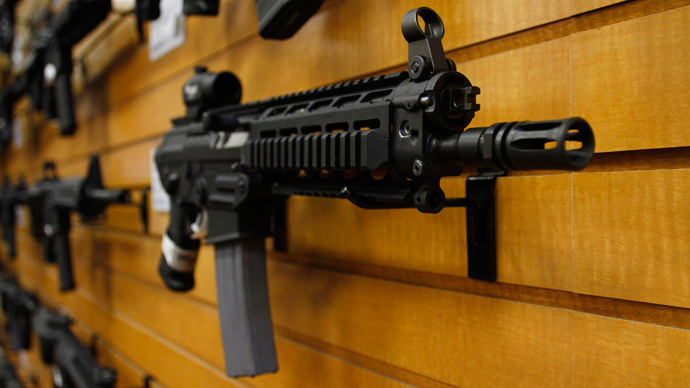 New Yorkers refuse to comply with the 2013 NY SAFE Act, obliging owners of semi-automatic weapons with a detachable magazine and a military-style pistol grip to register them. Only about one in 25 such weapons have been registered by police.
The latest New York State Police records which were first obtained by the Albany Times Union suggest that only 23,847 people in New York have so far registered 44,485 semi-automatic firearms reclassified and prohibited for sale in 2013, after the mass murder of 20 schoolchildren and six adults at Sandy Hook Elementary School in Newtown, Connecticut, in December 2012.
In the New York City area there have been only 8,510 applications to register guns that qualify as assault weapons.
READ MORE: Dozens dead, including 20 children, in one of the worst massacres in US history
In January 2013, New York became the first US state to introduce new gun restrictions after the shooting at Sandy Hook. Governor Andrew Cuomo signed into law the New York's Secure Ammunition and Firearms Enforcement Act, more commonly known as the SAFE Act, banning sales of assault firearms with a detachable magazine and a military-style pistol grip, among them popular civilian versions of the M16 and AK47 assault rifles. Sales of large-capacity magazines was banned as well, which was explained as "common sense."
Fewer than 45,000 assault weapons were registered since SAFE Act took effect in 2013: records. http://t.co/b9HZAXHE2wpic.twitter.com/OfgXdQwwlu

— New York Daily News (@NYDailyNews) June 24, 2015
NY2A Grassroots Coalition advocating Second Amendment rights reminds that Cuomo himself estimated the number of such guns in circulation in the state of New York of over a million before 2013 ban.
"The majority of gun owners and sportsmen in New York have absolutely no respect for this law," said Stephen J. Aldstadt, President of the SCOPE Inc (Shooters Committee on Political Education).
95% of New York Gun Owners Refuse to Register Their "Assault Weapons" Under New Law https://t.co/0a9MVpgYu9pic.twitter.com/AU9OYVI5vq

— Jim Russell (@ReadneckReview) June 24, 2015
Tens of thousands of gun owners are "willfully ignoring the law," said Leah Gunn Barrett, executive director of New Yorkers Against Gun Violence.
READ MORE: More crime-wary Americans turn to guns - poll
Jake Palmateer, co-founder of NY2A group, insists that fresh stats expose the new gun control scheme as a failure. The deadline for assault weapons register was set to be April 2014.
People refuse to register their weapons despite the fact that this could be treated as misdemeanor offense, punishable by "forfeiture of the weapon" and up to one year in jail, Daily News cited the New York State Police.
Under a different statute this administrative offence could be considered a low-level felony punishable by up to four years behind bars.
April 15th, 2014 was the SAFE Act deadline registration of the reclassified assault weapons in NYS. pic.twitter.com/fNCD4Ps9I7

— Robin Gates (@GatesRobin) February 5, 2015
That is one of the reasons why organizations like NY2A group are striving for the NY SAFE Act to be repealed or overturned in court.
READ MORE: Pennsylvania towns abolish gun laws to avoid lawsuits
"Many people have been calling for a full repeal of the SAFE Act. It would appear the people have just bypassed the legislature and simply repealed it on their own," said Tom King, president of the Albany-based New York State Rifle and Pistol Association.
You can share this story on social media: