NYPD cops punched, kicked and scratched in attacks (VIDEO)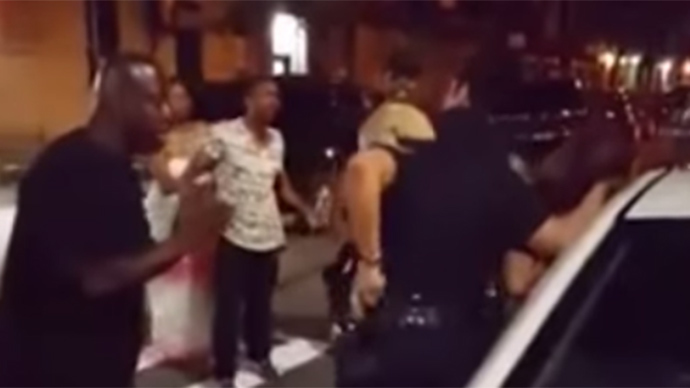 Two New York police patrols were attacked in the Bronx and Harlem, with officers suffering fractures, scratches and bruises. One union boss argued the violence against officers was a result of politicians scapegoating the police.
An attack in Manhattan's Harlem neighborhood was caught on video. The recording, titled "NYPD officers getting pummeled by onlooker during arrest," has attracted nearly 100,000 views on LiveLeak.
(WARNING: foul language, violence)
The video shows officers attempting to arrest a woman, who tries to get a hold of one officer's handgun. A man then punches the other officer from behind. The woman was identified as Asia Banks, 38, and the man as her brother, Terrell Mitchell, 26. According to the New York Daily News, the officers approached Mitchell after spotting an open liquor bottle in his hands, at which point Banks intervened.
Mitchell is shown hitting the officer repeatedly, while yelling "that's my sister." He then attempted to flee, but was arrested and charged with assaulting an officer, same as Banks. NYPD said the officer who was treated for swelling and a cut to his mouth, while his partner had scratches on her arms.
The altercation took place near the intersection of West 144th Street and Frederick Douglass Boulevard, around 11:30 pm local time Friday.
ICYMI: Video showing NYPD officers getting pummeled by onlooker during arrest goes viral http://t.co/H8KsditpSJpic.twitter.com/wo1SLgxACk

— TwitchyTeam (@TwitchyTeam) June 22, 2015
A few hours later, a group of residents assaulted the police patrol that tried to break up an illegal gambling event. One officer suffered broken eye sockets and a broken nose, and the other had his jaw dislocated, after a crowd in The Bronx attacked them early Saturday, according to local TV station WABC. Police reinforcements broke up the struggle and arrested three people. The injured officers "are expected to be OK," WABC reported.
In a radio show on Sunday, Sergeants Benevolent Association President Ed Mullins blamed the US politicians for creating a public climate hostile to law enforcement and forcing the cops into "reactive policing," according to the New York Post.
"Our leadership, from the president on down, has sent the message that law enforcement across the country are the bad guys," Mullins said on "The Cats Roundtable" show on AM 970. "And ultimately have sent the message to the criminal element that it's OK to carry firearms, that it's okay to resist arrest."
READ MORE: NYPD officers retreat as residents stop arrest of teenage girl (VIDEO)
"I had a conversation with two police officers who said that they feel they're lost in what to do," Mullins told the host, John Catsimatidis. "And everyone's very hesitant to become proactive because no one wants to be the next person to be indicted… based on political popularity."
Police departments across the US have faced increased scrutiny since last summer, following the death of Michael Brown in Ferguson, Missouri.
In a series of incidents, often caught on video, police officers can be seen killing or abusing African-American suspects.
A North Charleston, South Carolina officer was fired and indicted after a bystander's video recording showed him shooting a fleeing suspect, Walter Scott, eight times. In Baltimore, Maryland, mass protests over the death of Freddie Gray escalated into a day of rioting later that same month, bringing the National Guard into the streets. Six officers were charged in the death of Gray, whose spine was severed inside a police van.