​US Marine found guilty of murdering Iraqi, gets time served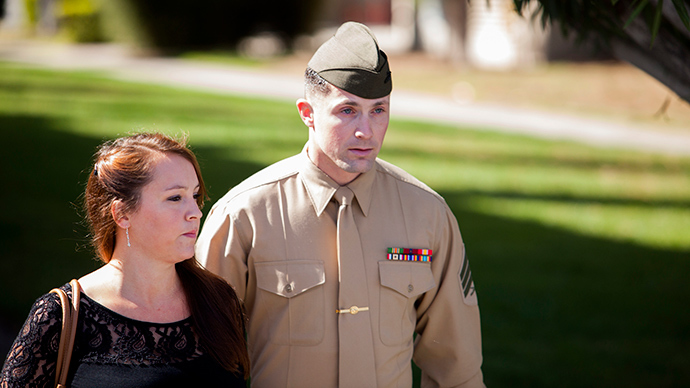 A US military jury has found an American Marine guilty of murdering an unarmed retired Iraqi police officer back in 2006. Although he faced the possibility of further jail time, the jury sentenced him to time served in confinement on Thursday.
Marine Sergeant Lawrence Hutchins III was also granted a bad conduct discharge from the Marine Corps, Reuters reported.
On Wednesday, Hutchins was convicted of murder, larceny and conspiracy over the death of Hashim Ibrahim Awad, a 52-year-old retired Iraqi officer who lived in Hamdania, about 21 miles southeast of Mosul. He had previously been convicted in 2007, but that decision was overturned on two separate occasions. The Navy was able to earn a retrial, and Hutchins was convicted again.
He was also originally convicted of making false statements about the killing, but was acquitted of that charge on Wednesday.
READ MORE: Agent Orange victims in Air Force Reserves now eligible for compensation
Hutchins was first sentenced to 15 years in prison back in 2007, though that sentence was later reduced to 11 years. Since he had served nearly seven years in prison while the appeals process was playing out and the retrial was initiated, the maximum sentence he could have received was the remaining four years.
Instead, the jury decided that no more prison time would be necessary.
As reported by Reuters, Hutchins was the leader of a Marine squad operating in Hamdania, which was looking to prevent further use of improvised explosives on roads. Hutchins was accused of dragging Awad from his house, tossing him inside of a hole and shooting him, the Los Angeles Times reported. The incident occurred in 2006. After Awad was killed, Hutchins' group allegedly planted a gun near his body and told their superiors that he had been an enemy.
According to one of Hutchins' squad mates who testified at the retrial, Hutchins gloated about getting away with murder, the LA Times reported. Others who had previously made statements against their squad leader said they no longer stood by them and declined to testify again.
Hutchins' defense team argued during the retrial that the investigation into the incident had been bungled and that investigators had rushed to judgment.
Both times military courts previously overturned Hutchins' original conviction, it was over procedural mishaps. In 2010, it was because one of Hutchins' statements, which he had given in custody, should have been categorized as inadmissible evidence, Reuters reported. When the conviction was later reinstated, a military appeals court overturned it again in 2013 because the military had not allowed Hutchins access to an attorney for one week at the beginning of the investigation.