​Schwarzenegger poses as 'Terminator' waxwork for charity, terrifies fans (VIRAL VIDEO)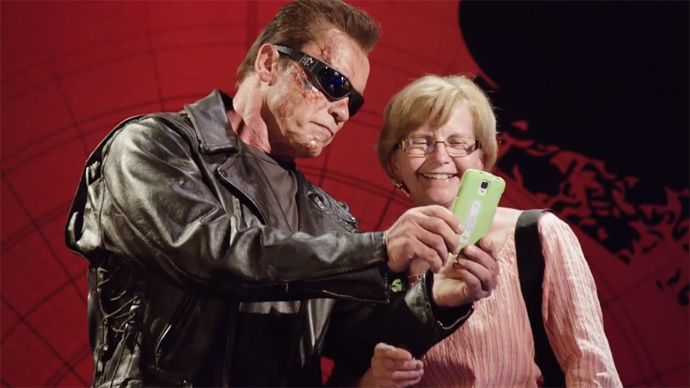 Screams aren't the typical reaction you'd expect while visiting Madame Tussauds in Hollywood, but that's what happened to visitors when the Terminator statue began to move. They were even more shocked to see that it was Arnold Schwarzenegger himself.
The video of the prank, posted on Schwarzenegger's YouTube channel, received more than 580,000 views in less than 15 hours, and that number continues to grow.
It shows the actor in hair and and make-up, as he transforms himself into his most famous film character, the Terminator.
Once he's decked out in the character's quintessential leather jacket and distinctive scars, Schwarzenegger takes a stroll down Hollywood Boulevard and heads to Madame Tussauds.
From putting his arms around visitors, to saying "no touching" to a young fan, nerves were certainly running high in the Hollywood museum. But everyone was more than happy to laugh it off, after they realized who was behind the prank.
Although Schwarzenegger obviously enjoyed the stunt, it wasn't just for laughs. The prank, put on by Omaze.com, was to promote a campaign for After-School All-Stars (ASAS) – a charity that provides after-school programs to keep children safe.
Big-money donors – those who give $50,000 or more – will be entered into a competition to hang out with the star and attend the premiere of 'Terminator Genisys.'
But the award seems even more awesome when said in the words of Arnie himself: "We will hit the premiere of 'Terminator Genisys,' we will say one-liners like 'Hasta la vista, baby.' We will tell people 'We'll be back.' All to benefit after-school programs," he says at the end of the video.