Obama's fast-track authority stuck in House slow lane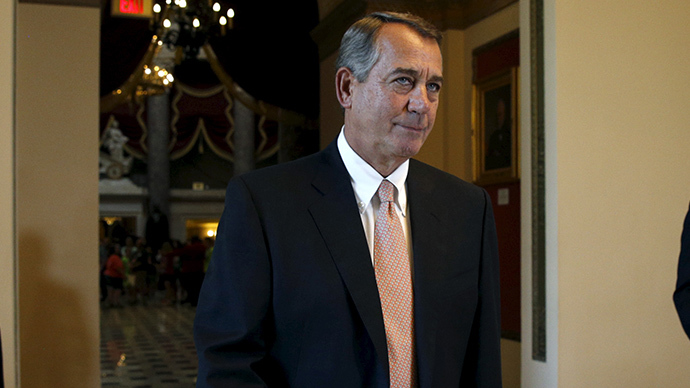 President Obama will have to wait up to six more weeks before getting fast-track authority to negotiate trade deals, such as TPP. The House put off a vote on the bill required to pass the authority, giving Obama time to drum up support within his party.
The Trade Promotion Authority (TPA), as the "fast-track" powers are officially called, squeaked through the House by a vote of 219-211 last Friday. However, opposition by Democrats saw the Trade Adjustment Assistance (TAA) program defeated in a 302-126 vote. Under the complex packaging arranged by the lawmakers, both measures must pass in order for the House legislation to line up with that adopted by the Senate.
Obama has requested "fast-track" authority to negotiate the Trans-Pacific Partnership (TPP) and the Transatlantic Trade and Investment Partnership (TTIP) deals. Republican lawmakers back both initiatives, but the President's own party is opposed.
#POTUS & @johnboehner abandon their plan to vote on #TAA today: http://t.co/M1yp0ICCOD#NoFastTrack 4 #TPP! pic.twitter.com/BXw7WhgemO

— Expose The TPP (@ExposeTPP) June 16, 2015
With the TAA coming up for a new vote on Tuesday, House Majority Leader John Boehner (R-Ohio) proposed a six-week extension, reserving the option to take up the vote at any point between now and the August recess. The extension was appended to a rule for floor debate on an unrelated intelligence authorization bill, and "sailed through" on a vote of 236-189, reported The Hill.
READ MORE: House passes Obama's 'fast-track' authority to negotiate trade deal
Votes on rules are considered tests of party discipline, with minority members always voting against even if they support the legislation in question. Three Republican representatives – Cynthia Lummis (R-Wyoming), Steve Pearce (R-New Mexico) and Trent Franks (R-Arizona) – were removed from the "whip team" by Majority Whip Steve Scalise (R-Louisiana) after breaking ranks last week and voting against the rule that brought the TAP and TAA to the floor.
While Republicans were disciplining their members, Democrats squared off for a fight over the trade authority. House Minority Leader Nancy Pelosi (D-California) broke ranks on Friday to vote against the fast-track program, while the leading contender for the Democratic presidential nomination, Hillary Clinton, distanced herself from Obama on matters of trade in a Sunday speech, reported the Washington Post.
Under the complicated arrangement devised by Boehner, Democrats were supposed to back a program that aided workers displaced by global competition arising from free-trade deals, while Republicans would deliver the votes required for fast-track authorization. However, the Friday vote saw Democrats overwhelmingly reject a bill they would normally support, in order to hold the fast-track authorization hostage.
.@NancyPelosi and @POTUS: On a Break http://t.co/8qduB89Gtd@StevenTDennis

— CQ Now (@CQnow) June 16, 2015
"This will give the president more time to communicate the consequences of not moving forward with his party," Kevin Smith, a spokesman for the House Majority Leader, said about today's extension vote.
White House Chief of Staff Denis McDonough met with Pelosi on Monday, reported the New York Times citing the President's aides. Obama has a difficult job ahead, however: out of 188 House Democrats, only 40 voted in favor of the TAA on Friday.
"We don't want to give up our leverage, that's the key point," said Representative Sander M. Levin (D-Michigan) said at a news conference, speaking on behalf of over a dozen House Democrats.
You can share this story on social media: