The perfect storm: 'Brown ocean effect' threatens disaster for Texas residents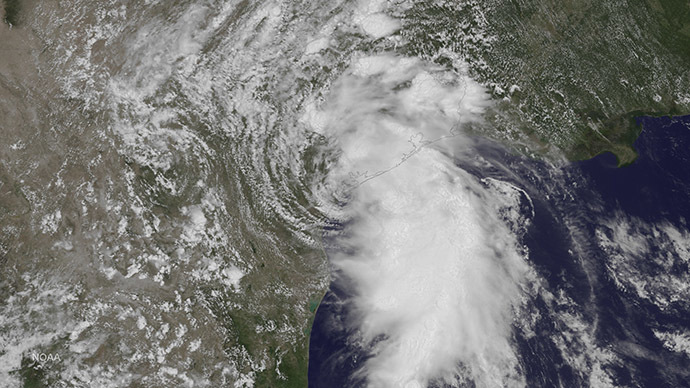 Texas is already soaked after an unprecedented amount of rainfall in May. However, things could get even worse. Tropical Storm Bill made landfall on Tuesday, but rather than weaken, it could actually gain in power due to the 'brown ocean effect.'
The phenomenon known as the 'brown ocean effect' could muddy the waters yet further for residents in the lone star state. A team of scientists involved in a NASA-funded project has discovered that the moisture from saturated soil can actually be absorbed by the storm, allowing it to wreak even more havoc as it hits land.
There she goes.... Thanks #TropicalStormBill#portLavacaTx@karinarenee83pic.twitter.com/cBbvU7AMpx

— melissa crowley (@melissacrowley3) June 16, 2015
Storms normally lose strength as they pass over land because water, their primary energy source, is cut off. However, Marshall Shepard, a climate expert told AP this might not happen when Tropical Storm Bill reaches the shores of Texas.
"All the things a hurricane likes over the ocean is what we have over land right now," said Shepherd, director of atmospheric sciences at the University of Georgia, who was one of the project's leading researchers.
Tropical Storm #Bill could dump up to 1 FOOT of rain in parts of TX & OK: http://t.co/y3EDQo8WV2#TXwx#OKwx#floodpic.twitter.com/rjEd3OxvY4

— The Weather Channel (@weatherchannel) June 16, 2015
Shepard said it won't be possible to tell if the brown ocean effect will have an impact on Tropical Storm Bill. He mentioned the key will be to see if the 'eye' is formed well inland. Research sponsored by NASA concerning storms from 1979 to 2008 showed that of the 227 inland storms that were reviewed, 182 weakened and died out. However, 45 either kept their original strength or grew stronger.
READ MORE: State of disaster declared in Texas due to severe weather conditions
Parts of the Gulf Coast are already reeling from the month of the May, when unprecedented amounts of rainfall affected Texas and Oklahoma, with the resulting floods killed more than 30 people. At one point, Houston received almost a foot of rain, as thousands of homes were damaged and 2,500 vehicles had to be abandoned.
Tropical Storm #Bill capture by @StationCDRKelly aboard @Space_Station: http://t.co/hkWV6Zzh9P#YearInSpace#TSBillpic.twitter.com/ZbH8N6V4de

— NASA (@NASA) June 16, 2015
Texas governor Greg Abbott declared a state of disaster in 24 counties, due to the deadly weather conditions which had been tormenting the state since early May.
With river levels still high and the soil still saturated, the added precipitation could make for an ugly combination.
"If we get that much rain in that time, there's probably going to be a resurgence of flooding along these rivers," said Kurt Van Speybroeck, meteorologist for the weather service in Fort Worth, according to AP.
Todville Rd in Seabrook right along Galveston Bay #TropicalStormBill#TEXASpic.twitter.com/X6BJi43kZ6

— Richard Guerra (@richardassigns) June 16, 2015
Weather experts say things could be just as bad with the advent of Tropical Storm Bill, has already started to batter parts of the Texas coastline, between Corpus Christi and Galveston.
Parts of Texas have been preparing for the worst, with Houston activating its Emergency Operation Center on Monday, while Dallas is expected to take a similar course of action on Tuesday evening.
Live shot was sunny. Two minutes later, this. Not everything you see on TV is 24hr reality. #TropicalStormBill@krgvpic.twitter.com/x8rz33KqJf

— krgv_erica (@krgv_erica) June 16, 2015
The National Weather Service says that parts of north Texas, Arkansas and Oklahoma could receive up to nine inches of rain in the space of just five days, with the onset of more bad weather.
"We have had time to recover but not a whole lot," said NWS hydrologist Tabitha Clarke in North Little Rock, Arkansas. "(The tropical system) is going over areas that are already sensitive. ... It's kind of a perfect storm. There are a lot of things lining up," AP reported.