Move, texter, get out the way: Texting lanes debut in Utah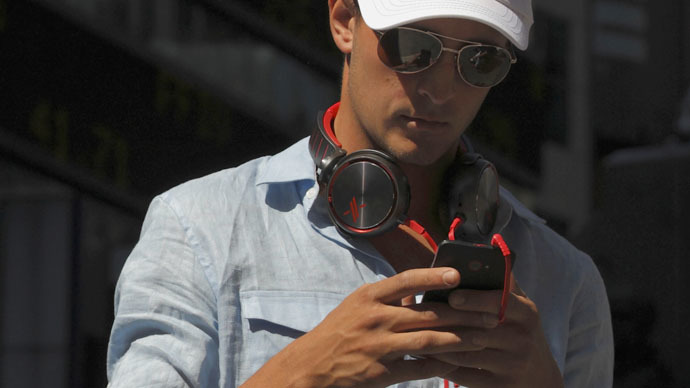 On subway escalators in London and Washington, DC, it's expected that people will "walk left, stand right." A US university is bringing that concept to staircases, with walking, running and texting lanes, and it's not alone with this idea.
Utah Valley University in Orem, Utah rolled out its freshly decorated staircase in the school's new Student Life and Wellness Center. It consists of three lanes, with walking on the left, running in the the middle and texting on the right.
The concept came from the university's creative service team, and is designed to add more functionality to the student center, Matt Bambrough, director of creative services for UVU, told Media General.
One US University has a unique solution of people texting while walking. Read more: http://t.co/GRAHBMwpFUpic.twitter.com/PVkeXbfzBp

— News 4, WIVB-TV (@news4buffalo) June 16, 2015
But not everyone is staying in their lanes, he noted.
"This graphic is obviously more aesthetic than functional, and through watching people take these stairs, most people don't obey the posted lanes," Bambrough said.
UVU isn't the only location where texting lanes have debuted. Antwerp, Belgium rolled out specially painted walking areas on some of its busiest shopping streets, Digital Trends reported.
Has it come to this? A lane reserved for texting in Antwerp Belgium (pic: Martin Corkery) pic.twitter.com/5VI881dSQJ

— Chris Griffith (@chris_griffith) June 14, 2015
Unlike the Utah university, however, Antwerp's texting lanes are a marketing stunt by local cell phone company Mlab.
"Everyone text-walks. You probably walk through the streets while texting or sending WhatsApp messages to your friends and don't really pay attention to your surroundings – only to whatever is happening on your screen," an Mlab spokesperson told Yahoo News. "This causes collisions with poles or other pedestrians. You could, unknowingly, even be endangering your own life while you text-walk when you cross the street without looking up."
In the US, about half a dozen pedestrians die each year in accidents where they are distracted by "portable electronic devices," according to the federal Fatality Analysis Reporting System, while pedestrian injuries due to cell phone use have increased 35 percent since 2010, based on a Stateline analysis of federal emergency room data.
UVU and Antwerp aren't the first places to introduce texting lanes, though. In September, an entertainment zone in Chongqing, China painted sidewalks and added a sign that read, "Cell phone users walk in this lane at your own risk."
Walkie-Talkie. China's first pedestrian #Talkway for users of mobile phones is in Chongqing: http://t.co/ofzWB7TbwJpic.twitter.com/IKDpwJkjiQ

— Steve 史進 (@ChineseCurrents) September 13, 2014
Texting lanes have also been created for research purposes. In July, a section of a sidewalk in Washington, DC was painted with separate lanes for those wanting to look at their cell phones, while another lane was for quicker walkers. It was part of a behavior experiment by National Geographic Television.
Fast lane sidewalk: one side for "No-Cellphone Users" and one for the persons who can't walk without texting... pic.twitter.com/jw4lILM2UQ

— Stylepark (@Stylepark) August 19, 2014
The researchers discovered that only a small number of pedestrians actually moved into the correct lane once they spotted the markings.
In both Chongqing and the District, the lanes became more tourist attraction than functional space.
Texting lane in full effect at #UTK. #signsofgood#design#placemaking#prototypepic.twitter.com/mMxJK6CWfu

— Megan Deal (@meganmdeal) March 7, 2015
But before texting lanes were part of marketing strategies and research projects, they were an April Fool's joke. On April 1, 2012, the city of Philadelphia, Pennsylvania debuted "e-lanes" around City Hall for those who couldn't tear their eyes off their smartphones. The city used the opportunity ‒ prank or no ‒ to call attention to the dangers of inattentive pedestrians, AP reported at the time.
The lines, signage and sidewalk graphics – depicting a pedestrian peering down at a hand-held device – remained in place through the end of the week.
You can share this story on social media: