FBI must explain prioritizing environmental activists on its terrorist lists - journalist (VIDEO)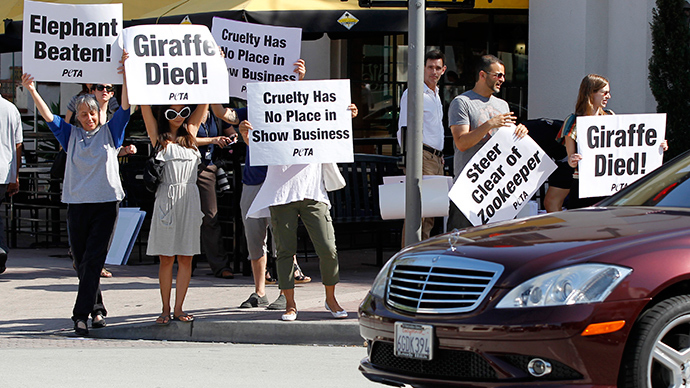 The public deserves to know why the FBI singles out environmental or left-wing activists - some from decades ago - as top terrorist suspects on its most wanted lists, as opposed to violent right-wing fugitives, journalist Will Potter told RT.
Potter, an investigative journalist and author of "Green is the New Red: An Insider's Account of a Social Movement Under Siege," recently wrote a post on his website that questions the Federal Bureau of Investigation's terrorism priorities, especially in light of the agency's well-known past abuses. He noted that all of those on the agency's Most Wanted Domestic Terrorism list are either leftists who committed crimes at least 30 years ago, or environmental/animal right's activists accused of property crimes, not physical violence.
"Over and over again, we're seeing this overreaching of FBI responsibilities, and going after protest groups and politicizing their duties," he told RT in an interview. "It's time for all of us to examine how those powers are being used, and I think it's time for a congressional inquiry as well."
Potter pointed to recent revelations exposing the FBI's unlawful surveillance and intelligence gathering aimed at "extremist" environmental activists opposed to the Keystone XL oil pipeline, which was called "vital to the security and economy of the United States" in FBI documents.
READ MORE: Docs show FBI wrongly spied on Keystone XL protesters
"I think the most important takeaway (of the FBI's domestic terror list) is not the individual crimes or what these people are accused of, but the bigger priorities that the FBI is putting forward," he said.
"The purpose of this list is to put a giant spotlight on what the FBI wants to focus its resources on. And when the FBI is focusing resources on environmentalists, or people who are accused of destroying property, or political activists from the '70s, that means they're not focusing resources on today's criminals and actual right-wing groups that have murdered people and sent anthrax, (and) murdered abortion doctors. That should really give everybody pause of how our taxpayer money is being spent."
The targeting of environmental activists is no accident, Potter explained. It's part of the FBI's current mission and not an aberration, especially in an era of federal legislation, such as the Animal Enterprise Terrorism Act, a sweeping law that labels and punishes as "eco-terrorism" numerous political activities or civil disobedience conducted in the name of animal rights. The law covers action that "damages or causes the loss of any real or personal property" or "places a person in reasonable fear" of injury.
"It may seem like isolated incidents where you have these environmentalists on a most-wanted list, or the FBI is talking about animal-rights activists, but these are really systemic problems."
Potter said he wants to know how the infamous J. Edgar Hoover-era FBI spying programs, which once targeted Black Panther members and anti-war activists, have evolved to include today's targets despite public admonishments of invasive, repressive surveillance operations.
"It's important to remember that the FBI has a history of abuses like this," he said. "That's why accountability and oversight are so important. During the 1970s and '80s, there was surveillance and harassment, a program called COINTELPRO spied upon and disrupted social movements. And after that, there were congressional hearings. (Surveillance of activists) was supposed to stop, it was all over with. That was the message we were told. I think now we have to revisit that and find out actually what's the scope of what's taking place today, whether those tactics evolved into something new."
Potter said the imbalance in the FBI's most wanted list is exemplified by left-wing environmental or animal-rights activists, who have been included based on property crimes that have not harmed a human being, while right-wing militia members who have perpetrated violence on people are not on the list.
READ MORE: 'Ag gag' law criminalizing documentation of farming abuses passed in Wyoming
"The crimes that the people on this most wanted list are accused of, some of them are serious property crimes," he said, "but it's important to point out that in the history of these groups, no one has ever been hurt, and that's never been their intention, whereas with right-wing groups in particular, militias, sovereign citizens, anti-abortion groups, that's been the explicit purpose.
"You can't ignore these things when you're prioritizing crime. And why is that? Someone at the FBI needs to explain their justification for not including those groups while focusing so much resources on environmentalists."
Economic damage, not physical injury or loss of life, has guided the FBI's so-called "anti-terrorism" operations against environmental activists, Potter said.
"What started as a corporate-driven agenda to label protesters as eco-terrorists has become institutionalized," he told Vice last month. "This has really become standard operating procedure, and I think that's what's most disturbing about this."
In January, a man sentenced to 19 years in prison for conspiring to commit "environmental terrorism" was granted early release after nine years of incarceration once it came to light that prosecutors withheld evidence from the defense. Eric McDavid's defense had claimed FBI entrapment in the case, saying an agency informant housed, fed, and encouraged McDavid and co-defendants to plot illegal activities, while using FBI surveillance equipment to relay their interactions back to the authorities.
You can share this story on social media: