​Man fined $100k for breaking Kickstarter promises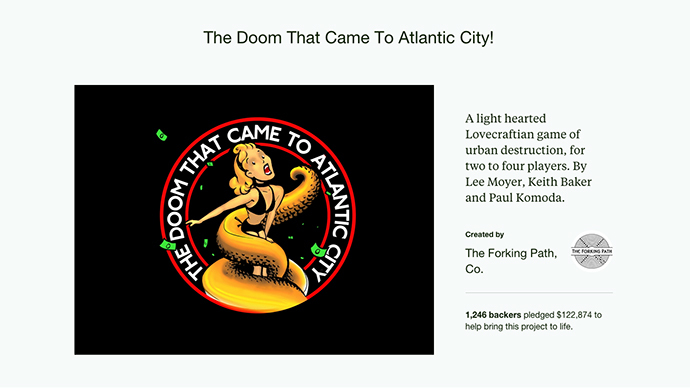 In what is the Federal Trade Comission's (FTC) first crowdfunding case, the government agency fined Erik Chevalier $100,000 for misleading the backers of his Kickstarter campaign to create a board game.
According to the FTC's complaint on June 11, Erik Chevalier ran a Kickstarter campaign for a board game called "The Doom That Came to Atlantic City!" He said that if he reached $35,000 – the minimum threshold for the campaign to actually receive the money – or more in funding, he would produce the game and give certain rewards to backers. By the end of the campaign he received $122,874, or more than triple his goal.
READ MORE: Tiny $9 computer CHIP rocks Kickstarter, promising tons of free apps
Described as a "light hearted Lovecraftian game of urban destruction" on the game's Kickstarter page, Chevalier incentivized funding by offering rewards such as pewter game figurines for backers that gave more than $75.
Unfortunately, the game never materialized, despite Chevalier making updates on the progress on the game throughout 2013.
"This is not an easy update to write," Chevalier wrote on an update on the Kickstarter page. "The short version: The project is over, the game is canceled."
In the last update on the Kickstarter page – posted on June 13, 2013 – he wrote about personally refunding the backers, starting with the ones that gave the most money first, and then moving down each "tier" of pledge amounts.
The FTC complaint claims that he spent the raised funds on personal expenses such as rent and moving costs rather than on the actual production of the game.
"Many consumers enjoy the opportunity to take part in the development of a product or service through crowdfunding, and they generally know there's some uncertainty involved in helping start something new," Jessica Rich, director of the FTC's Bureau of Consumer Protection, said in a statement. "But consumers should able to trust their money will actually be spent on the project they funded."
Chevalier has been fined $111,793.71 as part of his settlement with the FTC, although he cannot currently afford to pay it. He is also barred from making misrepresentations during other crowdfunding campaigns and is required to obey all refund policies.
Kickstarter has a refund policy, which states that creators who can't complete their project need to find a solution. Possible steps include "offering refunds, detailing exactly how funds were used, and other actions to satisfy backers." Creators are only considered to have remedied their situation if they have demonstrated that they used funds appropriately, have not made misrepresentations to their backers, and have offered to return any remaining funds to their backers. Creators who don't satisfy these criteria expose themselves to legal action from their backers.
READ MORE: 'Invisible' air umbrella project raises over $30k on Kickstarter
"Kickstarter creators have an incredible track record when it comes to following through on their promises," Kickstarter spokesperson David Gallagher said in a statement to the Washington Post. "But creators who abuse our system and backers' trust expose themselves to legal action."
The crowdfunding platform does indeed have a lot of success stories. The Pebble smartwatch brought in over $10,000,000 over the course of its 60-day campaign in 2012. In 2015, a new, full-color version of the Pebble brought in over $20,000,000, making it the most funded Kickstarter project of all time.
Pillars of Eternity, a computer roleplaying game, raised over $4 million on Kickstarter and went on to be a critically acclaimed commercial success upon its March 2015 release.
And, perhaps as some consolation to Chevalier's backers, "The Doom That Came to Atlantic City" was not entirely doomed after all. A company called Cryptozoic Entertainment saved the game, and gave a copy of it to all the backers of the Kickstarter project.
You can share this story on social media: