​Obama aims to diversify US neighborhoods amid criticism from Conservatives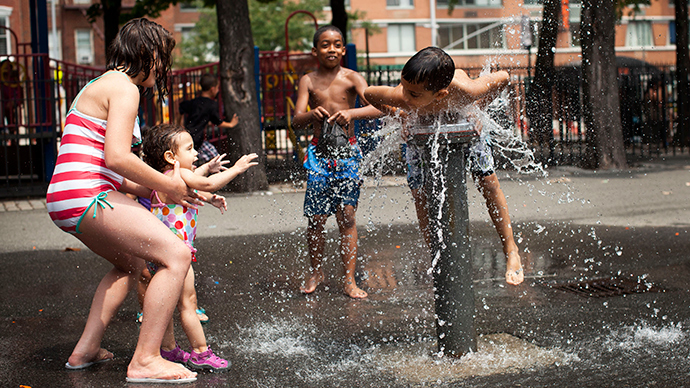 The White House is aiming to diversify America's neighborhoods and "break down barriers" – but not everyone is praising its efforts. Some have accused Washington of seeking an "unrealistic utopia."
The Affirmatively Furthering Fair Housing rule, a proposal from the Department of Housing and Urban Development (HUD), is aimed at ending segregation found in communities across the nation.
READ MORE: Alabama's legislative districts are 'racially gerrymandered,' Supreme Court rules
If passed, it would use grant money as an incentive for communities to build affordable housing in more affluent areas. It would simultaneously take steps to gentrify poorer areas with better schools, library, parks, grocery stores, and transportation routes.
"HUD is working with communities across the country to fulfill the promise of equal opportunity for all," a HUD spokeswoman said, as quoted by The Hill. "The proposed policy seeks to break down barriers to access to opportunity in communities supported by HUD funds."
To qualify for certain funds, cities would be required to examine segregation patterns in neighborhoods, and develop plans to address them. The regulations would apply to roughly 1,250 local governments.
The HUD is now headed up by Julian Castro, believed to be Hillary Clinton's running mate if she wins the 2016 Democratic presidential nomination.
READ MORE: Housing lawsuit: M&T Bank discriminates against African-Americans, Asians, Latinos
The proposal has been met with open arms from civil rights advocates, who say that it's due time to break through the barriers.
"We have a history of putting affordable housing in poor communities," Debby Goldberg, vice president at the National Fair Housing Alliance, told the Hill.
That thought was echoed by Margery Turner, senior vice president at the Urban Institute.
"In our country, decades of public policies and institutional practices have built deeply segregated and unequal neighborhoods," Turner said.
She added that children growing up in poorer communities have a lesser chance of succeeding in life, due to greater exposure to violence and crime, as well as less access to quality education and health facilities.
"Segregation is clearly a problem that is blocking upward mobility for children growing up today," Turner said.
But Conservatives say there's more to the proposal than meets the eye, stating that grant money shouldn't be spent on a plan that's completely unrealistic.
Rep. Paul Gosar (R-Ariz.) is one of those Conservatives, and he's leading an effort in the House to block the regulations. One Wednesday the House voted 229-193 to block an amendment that was linked to funding HUD
Gosar said in a statement that Obama's initiative "is one of the most far-reaching attempts yet to punish communities that don't submit to the president's liberal ideology. "
He boldly stated that the administration "shouldn't be holding hostage grant monies aimed at community improvement based on its unrealistic utopian ideas of what every community should resemble."
Gosar added that Americans should be "free to choose where they would like to live and not be subject to federal neighborhood engineering at the behest of an overreaching federal government."
"People have to feel comfortable where they live," he added. "If I don't feel comfortable in my own backyard, where do I feel comfortable?"
The representative also said the proposal will bring unease to communities, adding that it could depress property values while raising taxes.
He also expressed concern that it could tilt the balance of political power, as minorities move into Republican-leaning neighborhoods.
READ MORE: Poorest Americans left out of federal aid despite 74 percent spending surge
Critics, including Gosar, say the proposal would allow HUD to assert authority over local zoning laws, permitting it to dictate which types of homes are built, where they are built, and who can live in them.
Although the Fair Housing Act of 1968 prohibits direct and intentional housing discrimination, HUD says it is looking to address more subtle forms of discrimination which unintentionally harms minority communities, known as disparate impact.