Housing lawsuit: M&T Bank discriminates against African-Americans, Asians, Latinos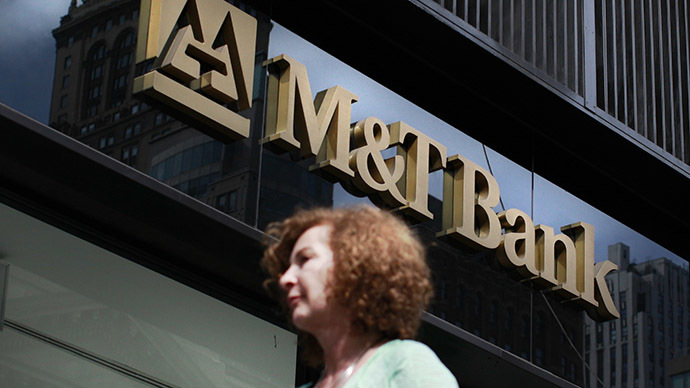 A two-year investigation into the mortgage lending practices of M&T Bank found it routinely favored white borrowers over black, Latino, and Asian borrowers in its lending practices – a violation of the Fair Housing Act of 1968.
In the lawsuit, the plaintiffs seek compliance with fair lending laws and injunctive relief, or damages as determined by the court.
For two years between 2012 and 2014, the Fair Housing Justice Center (FHJC) used actors to investigate claims of discrimination in lending practices at M&T Bank Corporation, the 17th largest commercial bank in the United States. Nine people who are named as plaintiffs in the lawsuit posed as married households looking to purchase their first home. The testers asked the lender – the bank – to help them figure out how much they could afford to purchase before beginning their search, and prior to working with a real estate professional.
READ MORE:Whites the new minority in America by 2044
While this happened, the minority testers pretended to have more money, greater assets, fewer debts, and better credit scores than the white testers. However, the FHJC discovered that preferential treatment was still given to the white testers, according to a report published by ProPublica.
"A white applicant with slightly lower income and credit scores and $9,000 less in savings was pre-approved for a loan. In another case, a Latina candidate was told she would qualify for a mortgage $125,000 less than the test's white candidate with lower income, poorer credit and less cash,"wrote Nikole Hannah-Jones of ProPublica.
Lawsuit claims that M&T Bank violated the Fair Housing Act, complete with audio & video evidence: http://t.co/trpN22L1px by @nhannahjones

— Hannah Emple (@hannahemple) February 9, 2015
The suit was filed by the FHJC, a New York City-based non-profit organization that is funded by the US Department of Housing and Urban Development to enforce the federal law that bans housing discrimination.
Among the allegations in the complaint are that a female M&T loan officer informed a black tester that she could not provide the tester with a possible home price or loan amount because it was premature for her to buy anything until she saved more money for a down payment. The same loan officer told a less qualified white tester that she could purchase a condominium for up to $210,000, or a co-op for up to $350,000.
During an interview with RT's Ben Swann, Hannah-Jones was asked if this type of discrimination is limited to one bank or if it is happening across the mortgage industry.
"What we do know is there have been several big lawsuits and settlements brought by the Justice Department looking at lenders – Wells Fargo, Countrywide – and charging those lenders with offering different terms to African-American and Latino buyers. So we know this is happening. How widespread it is, we don't really know," she said.
In an effort to end historic segregation in many cities across the US, the Fair Housing Act of 1968 prohibits discrimination concerning the sale, rental, or financing of housing based on race, religion, national origin, or sex.
READ MORE:Poverty-stricken neighborhoods almost triple in US
Also discovered during the investigation was that the bank was running a first-time homebuyers loan program that used the racial makeup of the area as a basis for its criteria.
"What M&T Bank said on its website was that this first-time buyers program required that buyers buy in low-to-moderate income neighborhoods," Hannah-Jones said.
"But when testers came into the bank, they were also told the program could be used in low-to-moderate income areas or any neighborhoods of any income that were less than half white. And the belief is that is illegal under the Fair Housing Act; that you cannot steer people into different communities based on race, and that you cannot offer programs that are race-based. "
You can share this story on social media: