American volunteer against ISIS killed in Syria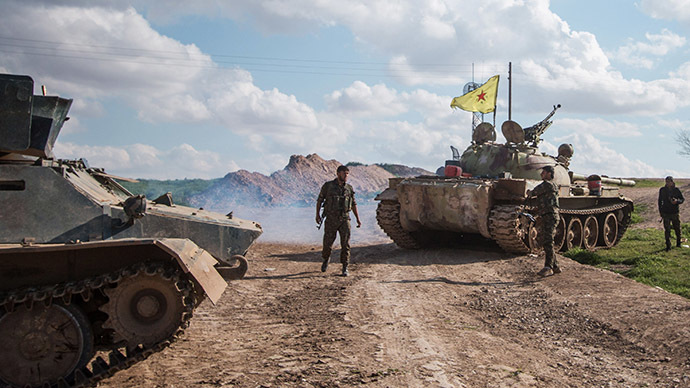 US authorities confirmed that an American volunteer in the Kurdish militia was killed in northern Syria. Sources say he died in heavy fighting between the Kurds and Islamic State militants in the village of Suluk, 50 miles east of Kobani.
Keith Broomfield, 36, of Westminster, Massachusetts, was a member of the "Lions of Rojava" a group of Western fighters attached to the Kurdish People's Protection Unit (YPG). He left the US for Syria four months ago, his mother told reporters.
American fighter, Keith Broomfield from Massachusetts, joined YPG in February in Kobane, martyred in Qentere village. pic.twitter.com/SKQ9eVf25x

— A Dunon (@ArjDnn) June 10, 2015
State Department spokesman Jeff Rathke confirmed Broomfield's death on Wednesday, but refused to disclose any other information, citing privacy concerns.
This is the first confirmed American casualty in the conflict between the self-proclaimed Islamic State (IS, formerly ISIS/ISIL) and the US-aided troops and militias in Iraq and Syria.
"My unspoken prayers and tears for those in the Middle East were answered when he left to fight. I didn't think I would lose him," said Broomfield's sister Jennifer in a Facebook post. "Please pray for peace. Pray for those who are fighting and those lost. Boldly as God asks us to I pray for ISIS. This needs to end. Love you big brother."
READ MORE: Not only Uncle Sam wants you: Kurds recruiting former US troops to fight ISIS
Dozens of foreigners, including former US and UK soldiers, have joined the Kurds over the past year, eager to fight against the terror group calling itself the Islamic State. After heavy fighting, the YPG successfully repelled an IS attack on Kobani in January, and has helped Kurdish Peshmerga militias in Iraq liberate Tikrit in April.
By contrast, US State Department has estimated that some 20,000 foreigners have flocked to IS ranks, including at least 3,000 Westerners.
There are currently 3,100 US troops in Iraq, acting as instructors and advisers to Iraqi forces and Kurdish and Sunni militias, but officially not engaged in combat operations.