White House hopes new Iraq base will boost Sunni recruitment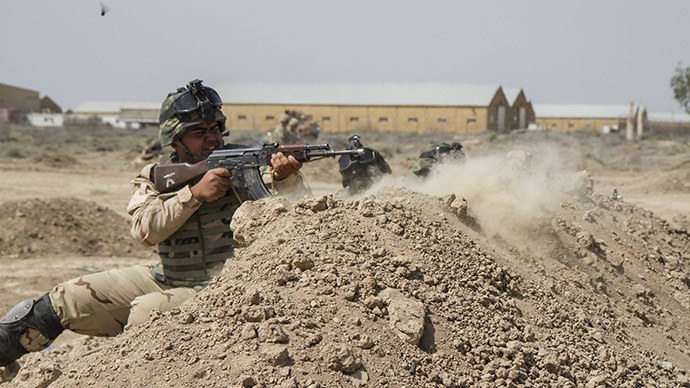 The US hopes a new base in Anbar province will spur Iraq's Sunnis to volunteer for training, the White House said. President Obama ordered 450 more troops to the Iraq facility in hopes of bolstering resistance to Islamic State forces in Ramadi.
According to the White House Press Secretary Josh Earnest, the problem with US efforts to "train, assist and advise" the Iraqi security forces and Sunni tribal militias has not been capacity, but a lack of Sunni volunteers. By locating the new facility at Al-Taqaddum, which is in an area mainly populated by Sunnis, the US hope it will make it easier for them to enlist.
"Our training capacity outstrips the number of recruits," Earnest told reporters on Wednesday, following the announcement about more advisers and security personnel being sent to Iraq."We want to see more recruits."
The full statement on US plans to send up to 450 additional troops to eastern Anbar province to train Iraqi army pic.twitter.com/lmpCv335Go

— Paul Danahar (@pdanahar) June 10, 2015
Even though Iraq's Prime Minister Haider al-Abadi promised he would enlist more Sunni fighters and the initiative was backed by all factions in the government and Sunni tribal leaders, the recruitment drives have not been encouraging. Only 1,100 Sunnis have taken part in the US training programs, and none have graduated from it, Iraqi scholar Hisham al-Hashimi told the Guardian.
READ MORE: US to build new Iraqi base to train anti-ISIS Sunni fighters
The US-led coalition against the Islamic State (IS, previously known as ISIS/ISIL) has provided basic combat training for 8,920 Iraqi troops so far, while another 2,601 are currently in training, according to Pentagon spokesman Col. Steven Warren.
Stung by criticism about lacking a strategy to fight IS, following President Obama's comments at the G7 summit in Germany earlier this week, the White House ramped up the training and advisory program it says is the only long-term solution to the IS menace.
"What is not on the table is a large-scale ground combat operation in Iraq," Earnest said. "The United States can't be in the business of fighting ISIL for the Iraqi people," he added, using the White House's preferred acronym for the terror group.
The Obama administration's strategy in Iraq was dependent on recruiting the Sunni tribal fighters, Earnest explained, so that local Iraqis would be fighting for their own towns, homes and neighborhoods against IS as this would be the only "sustainable solution." Rather than fight the war for them, the US wants to "build capacity" of Iraqis to rule and defend themselves.
READ MORE: More airstrikes & advisers: US claims to have a 'clear strategy' against ISIS
To reporters' objections that the White House strategy may not be working, with the IS capture of Ramadi last month postponing Iraqi plans to retake Mosul, Earnest said that Ramadi was "just a setback," and that Iraqi forces had made progress elsewhere, "significantly aided" by US advisers and coalition airstrikes.
According to the White House, the new base at Al-Taqqadum is the best way to expand the capacity of the training program, while funneling weapons to both the Iraqi government forces and Kurdish and Sunni militias fighting alongside them. The 3,100 US troops already in Iraq operate four training facilities at Al-Asad, Besmaya, Erbil, and Taji.
Earnest refused to commit to any sort of timeline for driving IS forces out of Ramadi or Mosul, saying that decision would be made by the Iraqi government after consultations with the US and the coalition, and that this would be their announcement to make.
"At least some of the US military personnel in Iraq will still be there when the President leaves office," he added.
The Pentagon seems to have stunningly misread the situation in Iraq. Now shifting tack, from Mosul to Anbar http://t.co/vHtKdmj52G

— Liz Sly (@LizSly) June 10, 2015
In the absence of any viable solution to the crisis, the US is "arming both sides of the conflict and ensuring that a lot of people get killed," says Peter Certo, editor at Foreign Policy in Focus.
"Now we're sending more anti-tank weapons to combat the tanks we sort of accidentally gave to ISIS," Certo told RT.
"The Obama administration has been very upfront in saying they don't think there is a military solution to the ISIS problem," added Certo. "Unfortunately, they're pursuing something of a military-only strategy."
US military advisers on the ground are more of a "band-aid" than a solution to a longer problem of the political chaos in the country, argued Iraq War veteran and Middle East scholar Jake Diliberto.
"ISIS gains their support from the people because the government is weak, because there is no stability in the country, and they have nowhere else to turn to," Diliberto said. "Unless that changes, there is no military component, no number of troops… that can make a significant impact."
Retired US Air Force Lt. Colonel Karen Kwiatkowski thinks deploying additional advisers may be trying to keep the door open for the next President to ramp up the intervention. "Both Democrats and Republicans – except for Rand Paul – are willing to pour lots more troops back into Iraq, in the fight against ISIS," she told RT.
"Think back to Vietnam. Look at the Balkans. We get involved incrementally in these conflicts that really aren't declared wars, and certainly don't threaten the US proper. We always get involved incrementally," Kwiatkowski said.
You can share this story on social media: