More airstrikes & advisers: US claims to have a 'clear strategy' against ISIS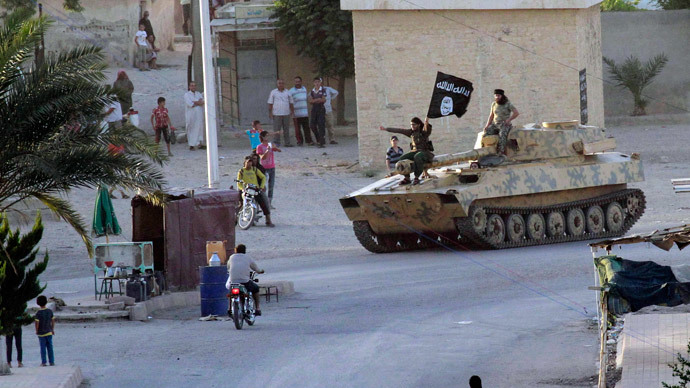 Hundreds of additional US troops may be going to Iraq to help train and equip government forces and militias fighting against ISIS, as President Obama came under criticism for saying the US lacked a "complete strategy" for the conflict.
Pentagon officials said they were "working through a strategy" on how to train more Iraqi troops, acknowledging it would involve setting up additional training camps and sending more US personnel to the region.
"Less than a thousand" additional advisers and instructors may join the 3,000 currently in Iraq, if the program goes ahead, unnamed officials told AFP.
"Because the forces we've trained are performing better than expected, we feel it's in everyone's interest to train more," Pentagon spokesman Col. Steven Warren told reporters Tuesday.
According to Col. Warren, the US-led coalition has provided basic combat training for 8,920 Iraqi troops so far, while another 2,601 are currently in training. The US-trained soldiers have been deployed to Samarra, in the north with the Kurdish militia, and in al-Karmah in the Anbar province, Warren said.
During a news conference at the G7 summit in Germany, President Obama said the US did not yet have a "complete strategy" for dealing with the Islamic State (IS, formerly ISIS/ISIL). He called on the Iraqi government to recruit more troops and take advantage of the training the US and its allies were willing to provide.
The Pentagon has yet to submit a "finalized" plan, Obama said, because it required "commitments on the part of the Iraqis as well about how recruitment takes place, [and] how that training takes place."
Fiorina: Obama's poor leadership to blame for lack of ISIS strategy http://t.co/MA9d3ZmOhVpic.twitter.com/R9Ej2kn85l

— The Hill (@thehill) June 9, 2015
The Republican presidential candidate Carly Fiorina blasted Obama's remarks as evidence of the White House's lack of foresight.
"It's been clear that he doesn't have a plan, it's been equally clear that the Pentagon has been giving him options and, of course, our allies have been asking for very specific things to help us defeat ISIS," she said on Tuesday on 'Fox and Friends'. The Kurds have asked for weapons and Jordan requested bombs, Fiorina added, but the White House has ignored the requests.
"What is really disappointing about this president is not just lack of leadership, but his tendency to always place the blame for his lack of leadership somewhere else," she said. "In the case of ISIS, it's apparently the Pentagon's fault or the Iraqi's fault."
READ MORE: Go to war or go home: House resolution to force debate on fight against ISIS
The State Department spokesman John Kirby defended the government's position on MSNBC's 'Morning Joe'. "We do have a strategy," he said, "the president was referring to a specific plan to improve the training and equipping of the Iraqi security forces."
"The ends are very clear, we've said this all along, the goal is to degrade and defeat ISIL, to remove them as a threat in the region and frankly, around the world," Kirby said. "The ways we are going to do that are through obviously airstrikes. We have to train and equip Iraqi security forces. This is their fight on the ground. We have to stem the flow of foreign fighters."
"We believe, certainly after Ramadi, that there is some room for improvement," Kirby said, referring to IS capturing the capital in Iraq's Anbar province on May 18, as US-trained Iraqi troops fled the city.
US efforts to arm various anti-IS ground forces both in Iraq and Syria have often resulted in headaches for Washington, though. On many occasions, IS fighters captured"abandoned" US-made weapons and equipment.
"We need to get those guys more competent on the battlefield, but maybe the way we are going about that needs to be changed a little bit," Kirby said.
You can share this story on social media: