43 years in solitary: Federal court blocks release of last imprisoned Angola 3 inmate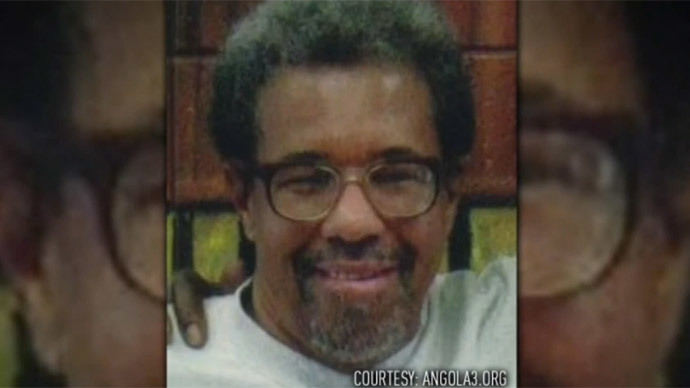 A federal court blocked the release of the last imprisoned member of the Angola 3, after a Louisiana judge ruled the state must release Albert Woodfox. The 68-year-old has spent 43 years in solitary, arguably the longest term of such confinement.
The 'Angola 3' ‒ Albert Woodfox, Robert King and Herman Wallace ‒ were inmates accused of murdering a guard at Louisiana State Penitentiary, also known as Angola Prison, during a prison riot in 1972. Though they maintained their innocence, the three men were convicted of murder and spent decades in solitary confinement. Woodfox and Wallace insisted that they were implicated solely for their involvement in a prison chapter of the Black Panthers.
On Tuesday, the Fifth Circuit Court of Appeals issued an emergency stay of Woodfox's release, temporarily halting the ruling of US District Judge James Brady. The appeals court will hear arguments from Louisiana on whether or not to overturn Brady's decision after he issued an unconditional writ of habeas corpus on Monday, citing five main reasons in his ruling to release Woodfox from prison.
"The five factors include: Mr. Woodfox's age and poor health, his limited ability to present a defense at a third trial in light of the unavailability of witnesses, this Court's lack of confidence in the State to provide a fair third trial, the prejudice done onto Mr. Woodfox by spending over forty-years in solitary confinement, and finally the very fact that Mr. Woodfox has already been tried twice and would otherwise face his third trial for a crime that occurred over forty years ago," he wrote.
Woodfox suffers from Hepatitis C, diabetes, renal failure and a history hypertension, his lawyer told the (New Orleans) Times-Picayune.
"He a host of issues that elderly people commonly face, but his are in [the] context of [solitary confinement]," attonrey George Kendall said.
Woodfox has remained in solitary confinement for 43 years, which makes him the longest-serving solitary confinement prisoner in the US, Kendall told the Guardian in September.
Kenny Zulu Whitmore (in photo w/ Albert Woodfox): 3 decades in solitary is unconstitutional http://t.co/UPY4iG27egpic.twitter.com/ReubfzKS62

— Angola 3 News (@angola3news) May 11, 2015
Teenie Rogers, the widow of slain prison guard Brent Miller, has said she believes the two men were not involved in her husband's death, and previously called for the release from prison, the Times-Picayune reported.
"If I were on that jury, I don't think I would have convicted them," she wrote in the Los Angeles Times in 2008.
King was exonerated and he was released in 2001, while Wallace's was overturned in October 2013. Wallace died of liver cancer three days after he was released, even though a Louisiana grand jury re-indicted him on his death bed. He was never retried.
Woodfox was first convicted of second-degree murder in 1973, a verdict that was overturned in 1992 by a state court due to "systematic discrimination." He was re-indicted by a different grand jury in 1993, then reconvicted in 1998.
Brady overturned Woodfox's second guilty verdict in 2008, citing ineffective counsel. The state appealed, and the case wound its way up to the Fifth Circuit Court of Appeals. That federal court reversed Brady's ruling, saying that Woodfox couldn't prove he would not have been convicted if he'd had a different defense team.
In 2012, Brady again overturned Woodfox's conviction, and the state appealed to the Fifth Circuit, which then agreed with the case judge. In February, Louisiana state's attorneys announced that a grand jury had indicted Woodfox for a third time in the Angola 3 case.
In his release order, Brady barred the state from conducting a third trial, ruling that further prosecution "would be unjust," he wrote.
The state condemned the unconditional writ, having argued before Brady that releasing Woodfox is against the public interest and that the inmate "is a danger to the public and is a flight risk."
"With today's order, the Court would see fit to set free a twice-convicted murderer who is awaiting trial again for the brutal slaying of Corrections Officer Brent Miller," Aaron Sadler, communications director for the Louisiana Department of Justice, told TheTimes-Picayune.
Woodfox's attorneys, however, applauded the judge's decision, saying that a third trial would have been unfair to their client.
"Now, because the State's key witnesses are deceased, and Mr. Woodfox's alibi witnesses are also deceased, there is no practical way for there to be a third trial which comports with the standards of a fair, American trial," Kendall and Carine Williams said in a statement.
The state has long denied that Woodfox and Wallace were held in solitary confinement, but rather in a lockdown called "closed cell restricted," which is designed to protect prisoners and guards.
#AlbertWoodfox (A3 Newsletter) The Waiting Game: 43 Years of Innocence; Still Incarcerated... http://t.co/jCrsqyLwpRpic.twitter.com/8voCGZwcJD

— Angola 3 News (@angola3news) April 17, 2015
"Contrary to popular lore, Woodfox and Wallace have never been held in solitary confinement while in the Louisiana penal system," Louisiana Attorney General James Caldwell wrote in a 2013 statement. "They have always been able to communicate freely with other inmates and prison staff as frequently as they want. They have televisions on the tiers which they watch through their cell doors."
King and watchdog groups define "closed cell restricted" lockdown as solitary, however. Since his 2001 release, King has advocated against the use of solitary confinement. He also fought for the freedom of his fellow Angola 3 defendants.
Amnesty International ‒ which has been part of a long-running, international campaign to free the Angola 3 ‒ praised the judge's ruling as a "momentous step toward justice."
"Woodfox has spent 43 years trapped in a legal process riddled with flaws," Jasmine Heiss, a senior campaigner for Amnesty, said in a statement. "The only humane action that the Louisiana authorities can take now is to ensure his immediate release."