NASA finally launches flying saucer-like prototype to edge of space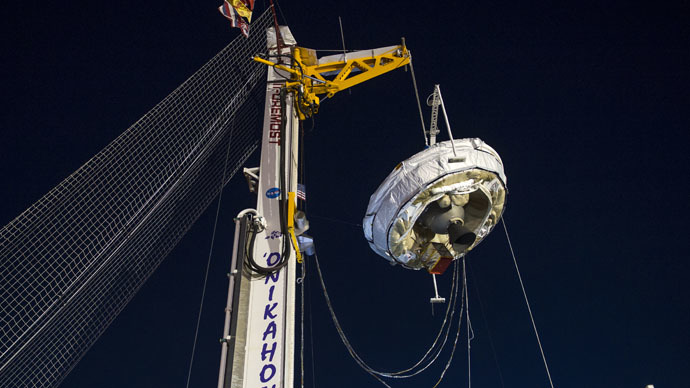 ​NASA has launched the "Low-Density Supersonic Decelerator" (LDSD), known simply as a 'flying saucer' as part of its step towards a manned mission to Mars.
LDSD went up on Monday from the US Navy Pacific Missile Range Facility in Hawaii.
It will take three hours to reach an altitude of 120,000 feet, which is three times as high as the cruising altitude of a passenger aircraft.
And we're off! #LDSD test vehicle has launched on its balloon ascending to 120,000 ft. Watch: http://t.co/KX5g7yYnYGpic.twitter.com/xCTC0jz77n

— NASA (@NASA) June 8, 2015
The balloon is relatively small when it is launched but it expands as it gains in height. When it reaches its maximum size it will be as big as a football stadium, making it the largest balloon ever tested. The material it is made from is extremely thin and has the same thickness as an everyday plastic shopping bag.
The balloon carrying #LDSD can fill the Rose Bowl Stadium. That's a big balloon! #321techoff#journeytomarspic.twitter.com/Xlope0xeOu

— NASA Technology (@NASA_Technology) June 8, 2015
This is known as the test altitude, and about 45 minutes after the balloon reaches this height a solid-fueled rocket engine will power up and fire the test vehicle at Mach 4 speed, up to 180,000 feet, which is the edge of the stratosphere.
The vehicle will then slow down to Mach 3 and it will deploy the Supersonic Inflatable Aerodynamic Decelerator (SIAD).
The SIAD initiates a further deceleration to a sedate Mach 2.4; the maximum speed of most fighter jets, and then the test vehicle will deploy a supersonic parachute, which will bring it down to a controlled impact on water.
LDSD proceeding toward launch. #LDSD#JourneytoMarshttp://t.co/IT4rD5ivxMpic.twitter.com/hv2iUd6dbe

— NASA Technology (@NASA_Technology) June 8, 2015
The mission is being carried out to test two kinds of braking technologies, which will enable payloads to be landed safely on the surface of Mars or any other planets with atmospheres.
The launch was originally scheduled for June 2, but was delayed due to unfavorable ocean conditions. It again had to be temporarily postponed on June 4.
The SIAD system was tested last year and no glitches were detected. However, the same could not be said for the parachute, which has undergone various improvements and redesigns.
"This year's test is centered on how our newly-designed supersonic parachute will perform. We think we have a great design ready for the challenge, but the proof is in the pudding and the pudding will be made live for everyone to see," said Mark Adler, project manager for LDSD at NASA's Jet Propulsion Laboratory in Pasadena, California.

At 9:36 p.m. GMT the vehicle was dropped from the balloon and the Star 48 solid-fueled rocket engine successfully activated, bringing to the vehicle to mach 4 over an uproar of cheering and applause from the NASA staff. The parachute, on the other hand, only partially opened and did not inflate in what was called a "partial chute." The vehicle's electronic systems shut down before it splashed down into the Pacific Ocean so as to preserve the information contained in the black box.
Boats were standing by ready to retrieve the vehicle at the anticipated splashdown location.
You can share this story on social media: