Lindsey Graham: 'Don't vote for me' if you want to avoid going to war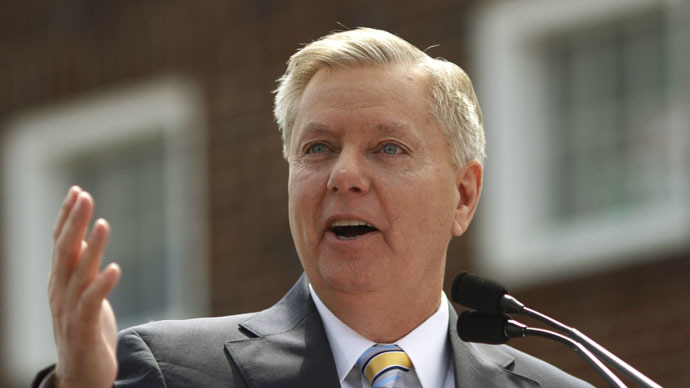 The 2016 presidential election is still over a year away, but potential Republican Party nominee Sen. Lindsey Graham(R-South Carolina) wants GOP voters to know what's in store if he wins the White House: more war.
Graham, one of the more recent and mainstream members of the Republican Part to toss their hat in next year's race, told Fox News during an interview this week that he has a much different idea for tackling the so-called Islamic State than President Barack Obama.
While the Obama administration is adamant about maintaining a policy against the terrorist group –also known as ISIS, or ISIL – that doesn't involve boots on the ground, Graham said he wouldn't hesitate to send American troops to the Middle East.
"I'm trying to tell the American people, the Republican primary voter: The only way I know to defend this country is to send some of us back to Iraq and eventually to Syria to dig these guys out of the ground, destroy the caliphate, kill as any of them as you can, hold territory and help people over there help themselves," Graham said during an interview on Thursday morning that was first spotted by Mediaite.
Lindsey Graham: If You're Worn Out By War, 'Don't Vote for Me' http://t.co/Ge1WR9bEc1 (VIDEO) pic.twitter.com/aZsKobDgA4

— Mediaite (@Mediaite) June 4, 2015
When 'Fox & Friends' co-host Steve Doocy responded by telling Graham that "a lot of people are just worn out by war," the senator fired back by saying that those voters wouldn't want to see Graham in the White House.
"Then don't vote for me," he responded. "Because I'm telling you what's coming. Barack Obama's policies of leading from behind are going to allow another 9/11. [ISIS] is large, rich, and entrenched. If I'm president they will be poor, small and on the run, and that means we have to work with the regional forces that exist, go in on the ground and destroying this caliphate."
Graham, who has severed in the United States Congress since 1995, formally announced on June 1 that he'd be pursuing the GOP's nomination in next year's election. He joined the ever-expanding list of Republican Party hopefuls that includes fellow Sens. Rand Paul (R-Kentucky) and Ted Cruz (R-Florida), among others.
The latest remark from the senator regarding his anti-ISIS policy follows a similar comment he made last month, in which he once again didn't hold back about how he'd handle any potential terror suspects if elected president.
"If I'm president of the United States and you're thinking about joining al-Qaeda or ISIL, I'm not gonna call a judge. I'm gonna call a drone and we will kill you," Graham told the Federalist.
Graham previously served in the United States Air Force and has routinely voted in Congress in favor of past American-led military operations in the Middle East.
You can share this story on social media: