Freedom Act will make snooping worse – Ron Paul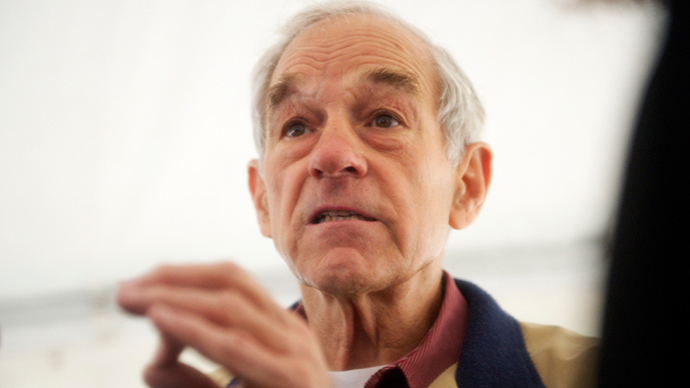 Passing the Freedom Act did not reform government snooping, so much as it made it legitimate, according to three-time presidential candidate Ron Paul. He asserts that Democrats and Republicans alike seek to reduce liberty for a promise of security.
"One thing in Washington, when they have the 'reform' of something, you cannot trust them, because reform usually means they're making things a lot worse," Ron Paul told Larry King on Politicking, Tuesday evening. "I think the reform act is a very, very dangerous thing. It's not a slight improvement, as some people argue."
A Pennsylvania-born physician, Paul served in the House of Representatives for over 20 years before retiring in 2013. He ran for president three times: in 1988 as a Libertarian, and in 2008 and 2012 as a Republican. His son Rand was elected Senator from Kentucky in 2010.
Joined by a handful of Senators and House members, Rand Paul led the push to block the extension of controversial Patriot Act provisions, and delayed the adoption of the USA Freedom Act, which re-authorizes NSA surveillance on Americans under slightly different conditions.
The Freedom Act, adopted by the Senate on Tuesday and quickly signed by President Obama, actually makes the situation worse, Paul argued. A federal court ruled that Section 215 of the Patriot Act did not authorize bulk data collection, whereas the Freedom Act contains provisions to actually give the government that authority.
"That's why a lot of people are voting for the reform act," Paul said. "But actually it's making things worse. Because the first thing is, it's making government a partner with Big Business, so Verizon and AT&T are doing the government's work. I don't like that, I don't like the mixture."
Paul explained that his son called for fighting terrorism while honoring the Constitution and staying true to American values.
READ MORE: 'Stop illegal NSA spying': Rand Paul vows to let USA Patriot Act expire
"Why do we give up our liberties? We go to war, we send our kids over there, we fight wars that are undeclared, that make no sense whatsoever," Paul said. "Why would we do to ourselves what we're claiming they might do to us?"
King brought up that in 1937, Nazi Germany abolished warrants, with Hitler saying that innocent people had nothing to hide. Many Germans found this position appealing.
"It appeals to a lot of Americans right now," said Paul. "I hear it all the time. It's scary."
Asked whether his son Rand's stand on the Patriot Act might hurt his standing within the Republican Party, the former congressman said his son was standing up for his principles.
"The problem is that too many people wimp out and say 'Well, you know, we have to be safe, we have to give up our liberties and we don't have anything to hide,' and they give more and more authority, let the government go into business with Big Business, and let the financial situation just get worse," Paul said. "If that's what they believe, to go along with them would be in my mind criminal."
While Republican hawks are at the forefront of attacks on Rand, Ron Paul argued that the problem was not partisan but institutional. There are just as many hawks among the Democrats, he said, pointing out that President Obama "says a lot of good things about backing off from war," yet the US is still involved in the civil war in Yemen and "very much involved, unnecessarily" in Ukraine.
READ MORE: Rand Paul filibusters NSA surveillance in Congress
"We've only had two kinds of foreign policy," argued Paul. "If other countries do exactly as we say, we give them billions and billions of dollars. If they don't do exactly as we tell them, we turn on them and we kill them."
True exceptionalism would mean leading by example, he said. If the US practiced civil liberties and had a good economy, maybe people around the world would decide it was something worth following and emulating.
"What we need to do in this country is make sure the majority of the American people really want their freedoms back again," Paul said. "We have to have people once again believe in liberty, foreign policy that defends America, but is not the policeman of the world. We don't have the right nor the facilities to throw our weight around and tell the rest of the world how to live."
You can share this story on social media: