4 million cubic feet of natural gas leaks as pipeline ruptures on Arkansas River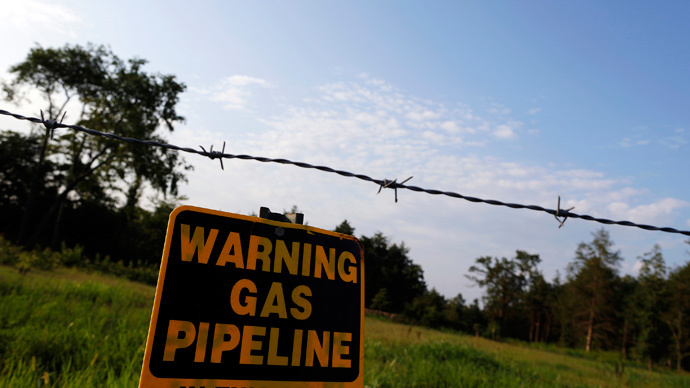 Around 4 million cubic feet of natural gas was released into the Arkansas River due to a rupture of a pipeline near the city of Little Rock in flood-hit state of Arkansas, the pipeline's operator reported.
A two-mile section of the river was closed indefinitely due to the incident, which led to no injuries or fatalities, Jonathan Lally, US Coast Guard spokesman, told AP.
It won't be reopened until the operator of the Texas Eastern pipeline, Spectra Energy Corp., finds and repairs the leak, he added.
According to Lally, the sheen from the fuel has by now mostly dissipated.
The 3.9 million cubic feet of gas leaked on Sunday or Monday from a backup line crossing the swollen Arkansas River, said Phil West, spokesman for Spectra Energy Corp.
The reasons for the leak haven't been established yet, the spokesman said, adding that the line was closed before the rupture and that what spilled into the water was only leftover gas inside.
READ MORE: California oil spill: State of emergency declared, up to 105,000 gallons leaked
"We have two pipelines that run across the river in the area, and the one that [ruptured] is an auxiliary. It's not normally in use. It's a way to transfer gas across the river when the other pipe is not in use," West told the Times.
"There's valves on either side of that that isolate the line ... the release was contained to the section on either sides of that valve."
Spectra Energy Corp. shut down its primary pipeline running underneath the Arkansas "out of an abundance of caution" as it investigates the cause of the leak.
The amount of gas leaked was "a relatively small number ... On any given day, we send billions of cubic feet through our pipeline," West added.
Southwest Arkansas and areas along the Arkansas River were flooded in recent days, with State Emergency Operations Center activated at Level 2 (limited operation) to respond to the disaster.
You can share this story on social media: