St. Louis alderman wants answers after cops use Taser on protesters (VIDEO)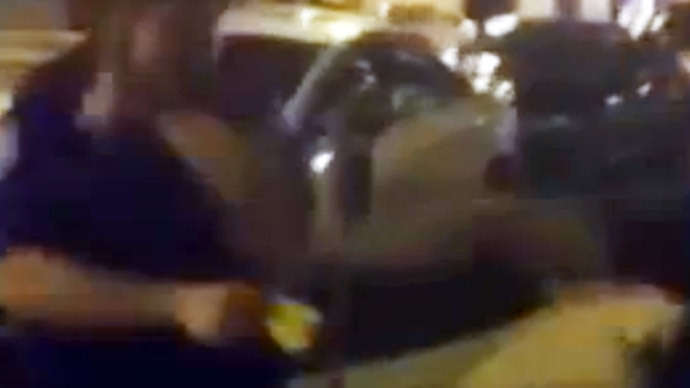 A St. Louis, Missouri city official wants an investigation to be launched into a recent incident in which local law enforcement officers deployed their stun guns on a group of protesters who were demonstrating against police brutality.
The ordeal began on Friday evening when a handful of "Black Lives Matter" demonstrators broke off from a larger group and began marching down the center of a busy city street, according to the police.
Officers with the St. Louis Police Department narrowed in on the group of eight protesters after several automobile accidents nearly occurred as a result of their impromptu march, KTVI News, a local Fox affiliate, reported.
One of the demonstrators was recording video on their cell phone as the officers began to surround the protesters and managed to capture footage as at least one cop quickly deployed their stun gun to try and subdue the group.
According to the St. Louis Post-Dispatch, two protesters were hit with Taser blasts because they resisted the officers' attempt to place them under arrest for ignoring orders to stay on the sidewalk.
As video footage of the ordeal goes viral, however, St. Louis Alderman Antonio French says he wants an explanation. On Sunday evening, French wrote on Twitter that he'll be asking the chief of police and any witnesses to appear before the city's public safety committee to discuss the event.
The two individuals arrested during the protest were 21-year-old Emmanuel Jones of Florissant and 34-year-old Kristine Hendrix of St. Louis, according to local media. Six others were arrested for impeding traffic.
"I can't, it hurts," a woman identified as Hendrix by the River Front Times can be heard screaming. "It hurts so bad, please stop. Please stop hurting me."

Chief Sam Dotson defended the police's actions to KTVI, explaining: "Our response was very appropriate and very measured. At some point, when people's lives are put at risk -- and that night protesters and [motorists] were put at risk -- I think they expect their police department to do something."
READ MORE: National Guard called Ferguson protesters 'enemy forces' – report

LaShell Eikerenkoetter, a "veteran protester" who was at the rally, according to the River Front Times, took aim at the police's claims.
"Nobody 'almost hit us'," Eikerenkoetter insists. "We didn't 'almost cause accidents.' We were dead in the middle of the street."
"Three or four cops walk up, they don't say anything, they came up and just grabbed people," she recalled of how the arrests unfolded. "They told us to leave, to get out of the way, and we were walking away as we were told to do."
The greater St. Louis region has become an epicenter for anti-police brutality demonstrations in recent months following the death last year of an unarmed black teenager, Michael Brown, at the hands of a white cop in nearby Ferguson, MO.
You can share this story on social media: