​National Guard called Ferguson protesters 'enemy forces' – report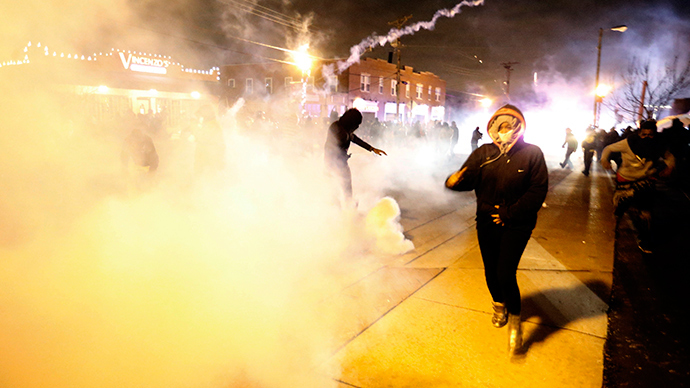 At the height of mass protests last year in Ferguson, Missouri, the state's National Guard referred to demonstrators as "enemy forces" and "adversaries," according to internal documents obtained by CNN.
Through Freedom of Information Act requests, the news network obtained files authored by the Missouri National Guard last year as it readied to deploy in the St. Louis suburb of Ferguson after the August shooting death of unarmed teenager Michael Brown, and the demonstrations that followed.
Protesters were described by the National Guard as "enemy forces" and "adversaries" in the documents, CNN reported on Friday this week.
The documents are ripe with militarized language, the network reported, once again causing concern among local officials following a months-long series of rallies marred by violent altercations between law enforcement and protesters.
#Ferguson heavily armed police in military gear arriving on armed personnel carriers now pic.twitter.com/GbGdrhZBlM

— Sebastian Walker (@sebwalker) August 13, 2014
One of the documents, an outline of the deployment plan dubbed "Operation Show-Me Protection II," described individuals as being "Friendly Forces" and "Enemy Forces." According to CNN, the latter category contained the KKK, the RgB Black Rebels and the New Black Panther Party, as well as those dubbed "General Protesters."
"It's disturbing when you have what amounts to American soldiers viewing American citizens somehow as the enemy," Antonio French, an alderman in St. Louis, told CNN.
National Guard Captain John Quinn told CNN that the terms in the report are typical for pre-deployment plans and that the documents were "a generic military planning format utilized in a wide range of military missions."
"The term 'enemy forces' would be better understood as 'potential threats.' Often in Guard operations, threats would include inclement weather, heat, failing levees, etc.," he said.
According to CNN, the documents also reveal that Guard officials admitted concerns about the increasingly militarized response to the protests during the deployment.
PHOTOS: Tensions mount in #Ferguson, Mo. after police shooting http://t.co/PJteCepIWdpic.twitter.com/QhMEguc7nb

— NBC News (@NBCNews) August 14, 2014
"We are deliberately constraining mobilization timelines to the last couple days to minimize backlash from calling up the NG early," Colonel David Boyle, Army chief of staff at the Missouri National Guard, wrote to his officers in a November 18 email obtained by CNN. "We have coordinated for lower profile, less confrontation likely mission sets to emphasize support roles and minimize public militarization perception."
Darren Wilson, then a member of the Ferguson Police Department, fatally shot Brown during an altercation last August in broad daylight. Law enforcement's handling of the incident, amid a rash of similar events across the United States concerning the treatment of African Americans by the police, sparked protests in Ferguson and nationwide. The widely reported and highly militarized response to the demonstrations also raised new concerns about the use of war zone-grade weaponry as touted by the National Guard as protests heated up last summer.
Images of the National Guard and other highly militarized police forces broadcast during coverage of the Ferguson unrest soon elevated concerns among members of Congress, Democrats and Republicans alike.
"The whole country and every representative and senator have seen the visuals, and at some level, it made all of us uncomfortable," said Senator Claire McCaskill (D-Missouri), a member of the Senate Homeland Security and Governmental Affairs Committee. "It's a moment where we can take a timeout and look at these policies."
"The images and scenes we continue to see in Ferguson resemble war more than traditional police action," remarked Senator Rand Paul (R-Kentucky).
You can share this story on social media: