Nazi war criminals received over $20mn in US social security benefits - report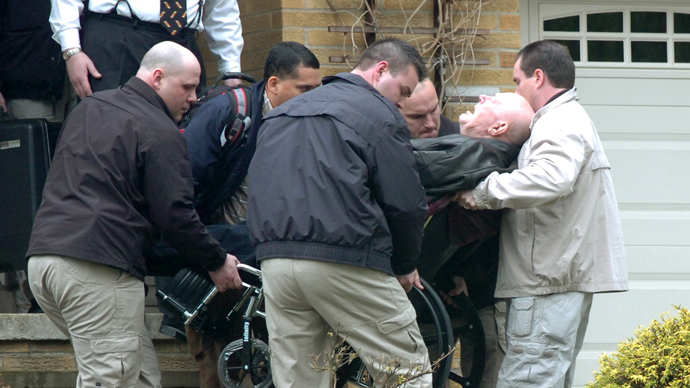 Over 130 suspected Nazi war criminals and collaborators received $20.2 million in benefits from the US Social Security Administration, according to the US inspector general of social security.
Following an Associated Press investigation last year that unearthed the fact that former Nazi war criminal had been getting US social benefits for years, the Social Security Administration's inspector general launched an investigation of its own. Results of the inspector general's seven-month probe will be presented to the public next week, but AP has already got hold of the findings.
The report says that no less than 133 alleged and confirmed Nazi criminals, such as SS guards, and other Third Reich's collaborators, collected $20.2 million in retirement benefits from the US government after WWII.
READ MORE: Suspected Nazi war criminals collecting 'millions' in Social Security – investigation
Some $5.6 million were paid to 38 former Nazis who were later deported from the US, while more than $14 million was paid to 95 Nazi suspects who were not expelled from the US.
As AP found out in 2014, those Nazis who weren't persecuted simply fled American soil, as the US Justice Department used a legal loophole to persuade Nazi suspects to disappear from the US in return for social security benefits being paid to them even after quitting the US.
The report that shows in detail how many Nazi suspects received benefits, doesn't specify any names.
It criticizes the Social Security Administration for not suspending in time benefits to four beneficiaries, totaling $15,658.
US Congress finally passed a legislation closing the loophole, with President Barack Obama signing the bill into law in December 2014, practically 70 years after WWII finished.
READ MORE: Obama stops Social Security payments to Nazi war criminals
U.S. Paid Residents Linked to Nazi Crimes $20 Million http://t.co/HJB666ZiWg For more on Nazis in US: http://t.co/BAwoeRCfNr

— Eric Lichtblau-NYT (@EricLichtblau) May 31, 2015
Democrat Congresswoman Carolyn Maloney, who requested the IG reports beforehand, said in an emailed statement on Saturday: "This report is another reminder that we must never forget the atrocities committed by the Nazis."
According to Maloney, "133 alleged and confirmed Nazis actively worked to conceal their true identities from our government and received millions of dollars in Social Security payments."
Declassified documents show that in 1950s the CIA and the FBI began to actively recruit former Nazis and collaborators to use them against the Soviet Union. Even war crimes were no obstacle, the disclosed files say.
READ MORE: CIA and FBI used 'over 1,000 ex-Nazis and collaborators' as spies during Cold War
One such man was Otto von Bolschwing, a former top aide to Adolf Eichmann, mastermind of the "Final Solution" - Nazi Germany's plan to exterminate the Jews through genocide.
Recruited by the CIA immediately after WWII, Bolschwing relocated to the US in 1954 and was granted citizenship as "a reward for his loyal postwar service."