Second Amendment 101: Texas moves to allow guns at universities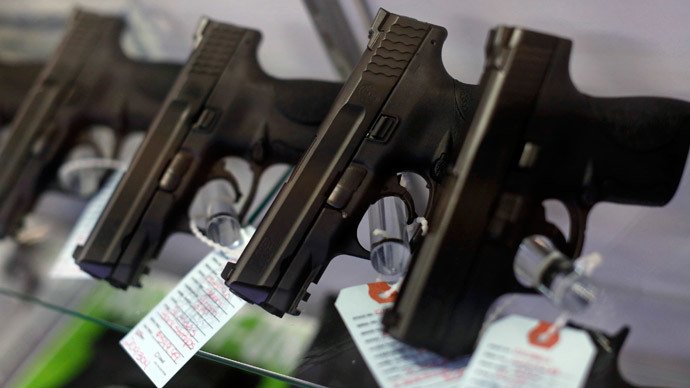 A law restricting universities from banning the concealed carrying of handguns on campus received preliminary approval by Texas legislators. House Democrats tried to stall the vote on the bill, but gave up just minutes before the deadline.
The "campus carry" law, or Senate Bill 11, received preliminary approval by a 101-47 vote, after House Republicans added amendments exempting hospitals and allowing universities to establish limited gun-free areas. Another amendment said that private colleges would have to follow the lead of public universities concerning the measure, reported the Texas Tribune.
Texas House tentatively OKs 'campus carry' proposal | @tombenninghttp://t.co/VQNZP6BjVVpic.twitter.com/P0wF2YJIdx

— Dallas Morning News (@dallasnews) May 27, 2015
Current laws allow Texans to carry handguns onto college campuses, but ban weapons from dormitories, cafeterias and classrooms. The new bill would retain the prohibition of weapons at sporting events and in campus hospitals.
Proponents of the bill argue that continuing to ban handguns infringes upon the Second Amendment rights of law-abiding citizens, and leaves them without the means of self-defense in case of an attack.
In addition to Democratic lawmakers, the leading voice of opposition is the University of Texas System Chancellor William McRaven, a retired US Navy Admiral formerly in charge of the Special Operations Command (SOCOM).
After the Texas Senate approved its version of the bill in January, by a 20-11 vote, McRaven wrote to the lawmakers arguing that allowing guns on campuses would "lead to an increase in both accidental shootings and self-inflicted wounds."
McRaven also said that allowing guns in the classroom would have a chilling effect on interactions between teachers and students.
If any state can be responsible with #campuscarry, it's Texas. Interested to see where this goes.

— Jacob Zolman (@jacobzolman) May 27, 2015
Students for Concealed Carry, a group backing the law, say McRaven's fears are unfounded. "More than 150 US college campuses currently allow licensed concealed carry and have done so for an average of five years, without a single resulting assault, suicide attempt, or accidental death," the group argues.
READ MORE: More crime-wary Americans turn to guns – poll
Professors should be less concerned about angering a student who might secretly be a "trained, tested, carefully vetted license holder" legally carrying a gun, and more about students who are untrained, untested, not vetted and carrying a weapon illegally, they say.
"What is the benefit of a state law or school policy that stacks the odds in favor of any criminal or psychopath willing to ignore state law and school policy?" the group asks.
Most students would be too young to qualify for the concealed carry permit, since Texas law restricts eligibility to persons 21 or older, unless they are active-duty or former military.
The bill still needs to receive final approval in the House. If adopted and signed into law, it would take effect in September.