'Total hero:' Apple co-founder says Snowden gave up his life to reveal NSA surveillance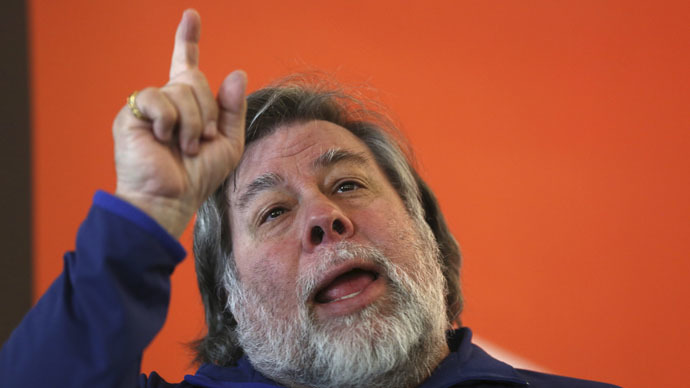 Apple co-founder Steve Wozniak gushed over former National Security Agency contractor Edward Snowden, calling him a "total hero" and saying he "gave up his life" to reveal the agency's surveillance programs.
In a wide ranging interview with Arabian Business, Wozniak spoke about surveillance, hacking, privacy and security, in addition to Snowden. Wozniak was in Dubai this month for the Gartner Symposium, and when he was asked whether he thinks Snowden is a hero or a villain, he was unequivocal.
"Total hero to me; total hero," Wozniak said. "Not necessarily [for] what he exposed, but the fact that he internally came from his own heart, his own belief in the United States Constitution, what democracy and freedom was about. And now a federal judge has said that NSA data collection was unconstitutional."
In 2013, Snowden revealed classified NSA documents to reporters which exposed the controversial programs for the first time, leading to a public outcry about government overreach and violations of the US Constitution.
READ MORE: Wozniak gathers US tech moguls to rein in excessive election spending
A federal court in New York this month found one of the programs used by the government – one which collected Americans phone records in bulk – to be illegal. The NSA's controversial collection of data on these telephone calls under the Patriot Act is due to sunset in five days unless Congress can agree to address privacy concerns over the surveillance.
"He's a hero to me, because he gave up his own life to do it," said Wozniak. "And he was a young person, to give up his life. But he did it for reasons of trying to help the rest of us and not just mess up a company he didn't like."
Wozniak has been complimentary about Snowden before. Two years ago, he compared Snowden to Pentagon Papers leaker Daniel Ellsberg. Last year, Wozniak also told reporters that he briefly met Snowden at a small event in Moscow, where the former NSA employee is currently living.
Wozniak has expressed some regret in the past for the role technology has played in allowing the government to expand its surveillance efforts. He told CNN in 2013 that those in the digital world "didn't realize…there were a lot of ways to use the digital technology to control us, to snoop on us, to make things possible that weren't."
Steve Wozniak: Snowden is a "total hero to me" because "he gave up his own life . . . to help the rest of us" https://t.co/Krx03s1vjF

— Glenn Greenwald (@ggreenwald) May 26, 2015
Snowden's revelations have resulted in an increase in demand for encrypted telecommunications. Wozniak is "pessimistic about prospects of protection," and said the problem extends back to "the early years of [operating system] development."
"It's almost impossible [to protect yourself] because today's operating systems generally get so huge that they can only come from a few sources, like Microsoft, Google and Apple," Wozniak said. "And those operating systems have so many millions of lines of code in them, built by tens of thousands of engineers over time, that it's so difficult to go back and detect anything in it that's spying on you. It's like having a house with 50,000 doors and windows and you have no idea where there might be a tiny little camera."
Privacy isn't the only concern, though. Increasingly, cyberattacks made on institutions like utilities and healthcare companies are becoming commonplace. On Tuesday, the IRS announced that the personal data of some 100,000 taxpayers was hacked.
READ MORE: FCC adopts net neutrality rules endorsed by open internet advocates
A US hacker named Chris Roberts told FBI agents earlier this month that he hacked the navigation systems of a commercial US airline through the plane's inflight entertainment system and successfully executed a "climb" command.
"First of all we have to thank [Roberts] because whatever he did, whether it's real or made up, it sure brought to our attention how critical this is," says Wozniak. "Why do people leave out security all the time? It's just how we are as humans. We grew up with very little security in our homes. Just a lock on the door."
According to reports, Roberts cracked the control system using a modified Ethernet cable, and a default username and passwords. Wozniak said new technology "leaves out security and protections; they just want to accomplish something that hasn't been done before…once they get attacked, they have to go back and think out the security."
You can share this story on social media: