Social liberalism matches social conservatism among Americans – survey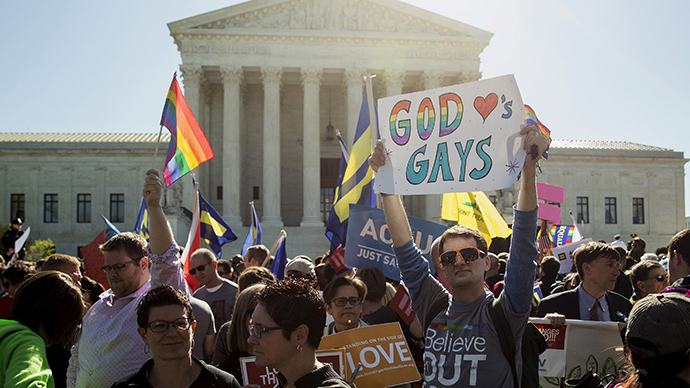 As many Americans identify as liberal on social ideology as they do conservative for the first time since Gallup began polling for the question in 1999. Since then, social conservatives have lost an 18-point advantage.
Thirty-one percent of Americans said they were socially liberal on issues such as same-sex marriage or marijuana legalization, according to Gallup, matching those who said they were socially conservative. In 1999, Gallup found 39 percent of Americans reported as socially conservative, compared to 21 percent of social liberals.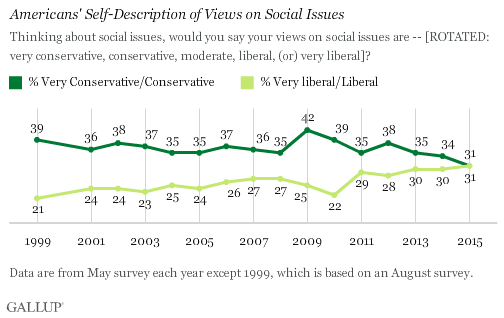 The broad trend since has been a near-steady increase in the share of poll respondents identifying with the liberal position. Only during President Barack Obama's first two years in the White House did the socially liberal position stall in its rise.
READ MORE: Majority of Americans support legalizing marijuana – polls
Gallup reported that it has measured social viewpoints among Americans at least once each year since 1999. That year, then-President Bill Clinton was acquitted by the US Senate of impeachment charges of perjury and obstruction of justice brought by the US House of Representatives over an affair between Clinton and White House intern Monica Lewinsky.
The poll also found a new high among Democrats and Democrat-leaning people who claim liberal social views (53 percent) as opposed to "moderate" (31 percent) or "conservative" (14 percent) positions.
Meanwhile, the share of Republicans and Republican-leaning people who claim conservative social views is at its all-time low, at 53 percent, compared to moderate (34 percent) and liberal (11 percent).
Gallup said views on social issues have tracked along with the organization's measurement of overall ideology since 1992, as polls since have found increasing liberal identification among Americans.
"As with the social ideology measure, the longer-term shifts are mainly a result of increasing numbers of Democrats describing their views as liberal rather than moderate," Gallup wrote. "That may reflect Democrats feeling more comfortable in describing themselves as liberal than they were in the past, as much as a more leftward shift in Democrats' attitudes on political, economic and social issues."
READ MORE: 80% of Americans concerned about govt surveillance online - survey
The poll also found that Americans still call themselves conservative on economic issues to the tune of 39 percent to 19 percent who claim to be economically liberal.
Despite that difference, the gap between economic conservatism and liberalism is at its lowest point since 1999, according to Gallup.
The number of Americans reporting to be economically conservative is at its lowest point to date, as well. In 1999, the gap was 44 percent to 16 percent. The highest difference came in 2010, with conservatives outnumbering liberals 51 percent to 15 percent.
Gallup attributed the changes in part to "population changes, with younger, more liberal Americans entering adulthood while older, more conservative adults pass on."
The poll was conducted by telephone from May 6-10, with a margin of error of 4 percentage points.