​Schools close in Seattle as thousands of teachers wage day-long strike
Published time: 19 May, 2015 21:48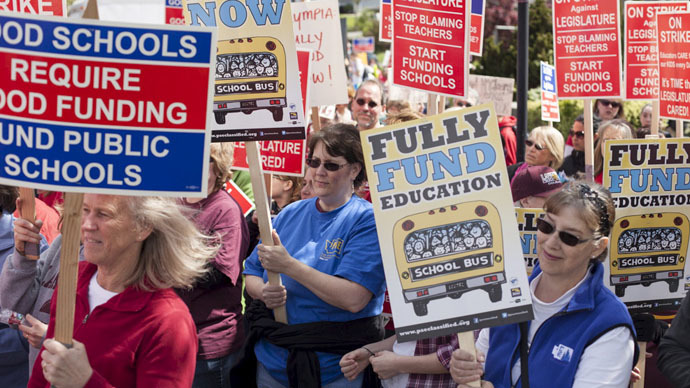 Thousands of teachers marched through the streets of Seattle, Washington on Tuesday as part of a large-scale demonstration waged by educators wanting to see educational funding increased in the Pacific Northwest.
Traffic in downtown Seattle was at a standstill at times, according to local media reports, as around 5,000 teachers from the city and surrounding school districts participated in the planned walkout.
Public school classes for around 50,000 youngsters were cancelled to accommodate the protest, and students will have to attend one extra day of class before summer vacation starts in order to make up the difference.
Signs read "Good schools require good funding - fund public schools." pic.twitter.com/09OrtzIKlu

— Jesse Knutson (@JesseKnutsonTV) May 19, 2015
Throngs of protesters marched in the demonstration, chanting slogans such as "Fund our schools," local journalist Michael Konopasek reported. The crowd was led through the city by a police escort and the demonstration was expected to last into the afternoon on the west coast.
"My students are more than a test score," the educators chanted at times, according to reporter Jesse Knutson. Some protesters held signs reading "Good schools require good funding – fund public schools," and others displayed messages telling the state legislature not to hold teachers accountable for poor student performance.
The are chanting: "Fund our schools" pic.twitter.com/pZkCCgwc2R

— Michael Konopasek (@MikeKonopasek) May 19, 2015
Earlier this month, the Seattle Education Association, the largest teachers' union in Washington State, voted to hold the one-day strike to demonstrate for better pay, smaller class sizes and less standardized testing. The decision was made after last month's failure of state lawmakers to fund a voter-approved initiative to lower class sizes and keep teacher pay from being cut.
The SEA expected teachers from nearly 60 school districts across the state to participate in the event.
Huge crowd at Westlake for #teacherstrike. Rally about to start. @Crosscutpic.twitter.com/1EOxyZLw14

— David Kroman (@KromanDavid) May 19, 2015
"There's going to be disruption, no doubt about it," Jonathan Knapp, president of the SEA, said previously. "And to a certain extent that's the point. To really make a strong statement to the legislature that this action is pointed at them ... to say you need to do more."
"The (lawmakers), they haven't done the job the voters told them to do," SEA Vice President Phyllis Campano, said this week. "And now the communities are coming together so they need to step up and do their job."