Video of Iraq war vet dying in Texas jail after being mauled by riot guards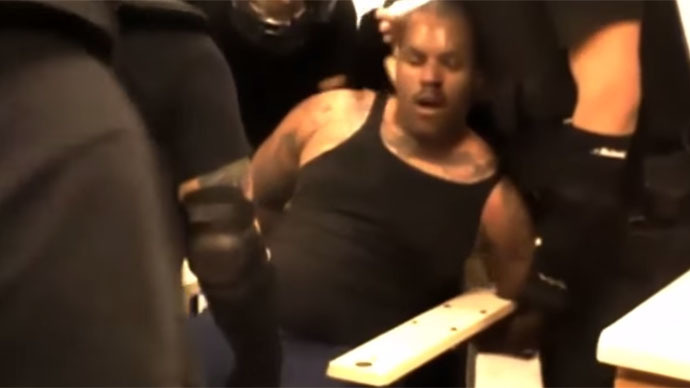 In 2012, active-duty soldier James Brown reported to the El Paso County Jail to serve a two-day DWI sentence. New video of his time in custody has revealed aggressive force being used on him by officers, who ignored his repeated pleas for breath.
KFOX14 obtained video recorded during Sergeant James Brown's custody, which finally sheds some light on a death the county sheriff's department claims was caused by a "pre-existing medical condition."
Brown, 26, was an active-duty soldier at Fort Bliss in Texas who has served two tours of combat duty in Iraq. He had no previous criminal record.
When he self-reported to the El Paso County Jail in July 2012 to serve a short sentence for driving while intoxicated, he said in writing that he was diagnosed with post-traumatic stress disorder, according to jail records.
Shortly after checking in, he spoke by phone to his mother, Dinette Robinson-Scott.
"He said they're trying to make me stay seven days instead of two days, so i just want to pay the court fine and get out of here," she told KFOX14. Robinson-Scott said she sent the money the next morning.
Yet at some point overnight Brown had an apparent episode that caused him to start bleeding. When he stopped communicating with the jail guard outside his cell, a team of officers in riot gear were sent in. They confronted Brown and pinned him to the ground.
Brown can be heard in the video repeatedly stating that he could not breathe. He claimed he was choking on his own blood. His health appears to wane as the video goes on.
He pleaded with the guards to remove a spit guard that restricted his breathing. He begged for water and was given only a small amount.
He was at some point laid out on the floor of his cell with shallow breathing and no signs of responsiveness. His family's attorney say the jail didn't called for an ambulance during this period.
Brown was eventually taken to University Medical Center, where he was pronounced dead. He had no illegal drugs in his body, according to a toxicology test.
READ MORE: White House announces rules to limit military-style weaponry, riot gear for police
The autopsy claimed he died of natural causes via a "sickle cell crisis," which can arise through dehydration and stress.
El Paso County Sheriff Richard Wiles told KFOX14 that he supported the autopsy's result.
"Mr. Brown's death was an unfortunate tragedy," he said. "The sheriff's office has conducted a thorough review of the facts surrounding Mr. Brown's death and, based upon all the evidence obtained, determined that his death was caused by a pre-existing medical condition. The specific evidence cannot be discussed because of pending litigation."
The family's attorneys, Jason Bowles and B.J. Crow, said the video poses some serious questions about the county jail's treatment of Brown.
"When a 26-year-old man checks into jail for a court imposed sentence on a Friday, and he leaves Sunday in a casket, something went horribly wrong there," said Crow.
Brown's family said he had shown no history of sickle cell crisis and that they believe his treatment in jail caused the medical emergency.
Crow added the claimed stress that brought about Brown's sickle cell crisis at the jail was apparently more stress than the soldier had undergone while twice coming under fire during combat.
"He was bleeding out the ears, the nose, the mouth, his kidney's shut down, his blood pressure dropped to a very dangerous level, and his liver shut down," said Crow.
Brown's family, meanwhile, wanted the public to know what happened to him at the El Paso County jail.
"I pray that new laws protecting soldiers in custody will be implemented, that the military adopt new policy procedures in regards to their soldiers being held in custody by an outside agency," Brown's mother said. "If these changes can be made and our soldiers are protected, and another family never has to experience what my family has, then my son's death would not been in vain."
Brown's family is suing for damages. A federal civil trial is scheduled to open in court in October.
You can share this story on social media: