US marine dies, 21 injured in Osprey crash-landing at Hawaii base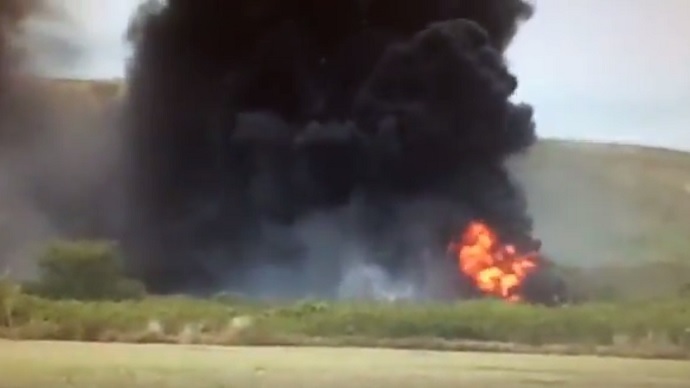 One US marine has been killed and all other 21 aboard an MV-22 Osprey have been injured after their aircraft experienced a "hard-landing mishap" at Bellows Air Force Base in Waimanalo, Hawaii, US Marine Corps confirmed.
Honolulu fire crews responded to the military aircraft crash at Bellows on Sunday afternoon, after locals reported heavy black smoke rising from the area.
"An MV-22 Osprey from the 15th Marine Expeditionary Unit experienced a hard-landing mishap while conducting training aboard Marine Corps Training Area – Bellows at approximately 11:00 a.m., Hawaii time," the US Marine Corps said in a statement.
Video just into our newsroom of a downed helicopter at Bellows. Courtesy M. Raquinio @KITV4pic.twitter.com/y1WvpQEFCX

— Ashley Moser KITV (@AshleyMoser) May 17, 2015
Emergency services were deployed to the scene and local hospitals were ready to receive the injured as initial reports indicated several people might have been critically injured.
"The Marines were conducting routine sustainment training at the time," the Marine corps said about the mission. "The cause of the incident is under investigation."
#bellowsAFSpic.twitter.com/FhLLYof3HL

— Matthew Macchioni (@therealmattm) May 17, 2015
New pic: #Breaking: Military aircraft goes down at Bellows AFB http://t.co/7j1sfugy7f#HINewspic.twitter.com/IzfH6R69W5

— Hawaii News Now (@HawaiiNewsNow) May 17, 2015
Osprey crash at Bellows #HInews@HawaiiNewsNowpic.twitter.com/UfnMwYLdd5

— Nat (@nanigurl) May 17, 2015
#Breaking update: Confirmed downed military aircraft at Bellows AFB. http://t.co/O8WfUmLhg4#HINewspic.twitter.com/RByvcZYVda

— Hawaii News Now (@HawaiiNewsNow) May 17, 2015
You can share this story on social media: