'No winner today:' Survivors, lawmakers react to Boston bomber's death sentence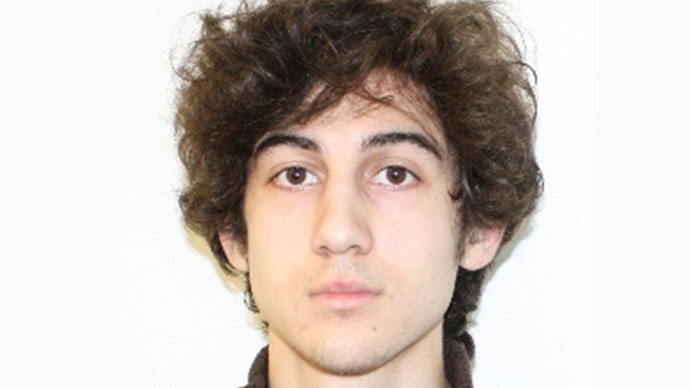 Dzhokhar Tsarnaev has been sentenced to death for carrying out the 2013 Boston Marathon bombings and reactions have been pouring in from all over the US. Some believe the penalty is appropriate while others argue capital punishment is never justified.
Tsarnaev, a 21-year-old ethnic Chechen, was found guilty in April of all 30 charges he faced, 17 of which were eligible for the death penalty. On Friday, he was sentenced to death for some ‒ but not all ‒ of the capital charges.
This marks the first time that federal prosecutors have been able to win a death penalty verdict since after the September 11, 2001 attacks.
The same jury of seven women and five men who condemned Tsarnaev for the crimes was also responsible for deciding his punishment. Upon hearing his fate, Tsarnaev reportedly had no visible reaction in the courtroom.
#Tsarnaev showed no reaction at death sentence or as he was led away #7Newspic.twitter.com/8gnIPPdZ4y

— Dan Hausle (@dhausleon7) May 15, 2015
Speaking outside the courthouse, the prosecution's lead US attorney, Carmen Ortiz, said her team's goal was to present enough evidence for the jury to reach "a fair and just verdict."
"Even in the wake of horror and tragedy, we are not intimidated by acts of terror or radical ideals. On the contrary, the trial of this case has showcased an important American ideal that even the worst of the worst deserve a fair trial and due process of law."
Shortly after the verdict was rendered, US Attorney General Loretta Lynch called the death sentence "a fitting punishment."
READ MORE: Boston Marathon bomber Dzhokhar Tsarnaev sentenced to death
"We know all too well that no verdict can heal the souls of those who lost loved ones, nor the minds and bodies of those who suffered life-changing injuries from this cowardly attack," she said in a statement. "But the ultimate penalty is a fitting punishment for this horrific crime and we hope that the completion of this prosecution will bring some measure of closure to the victims and their families."
Ortiz said the prosecution did not decide to pursue the death penalty "lightly," but only after a long internal process at the Justice Department.
"Today is not a day for celebration," she said. "It is not a day for political or moral debate. It is a day for reflection and healing. Our thoughts should now turn away from the Tsarnaev brothers for good and remain with those who will live in our memories forever."
Upon hearing the sentence from an Associated Press reporter, Tsarnaev's father, Anzor, reportedly "groaned" and "moaned deeply" before hanging up the phone.
However, he told ABC News that "We will fight. We will fight. We will fight until the end."
Multiple Boston Marathon survivors reacted with relief at the news, saying the penalty helps give them closure and the ability to move on.
Completely numb... and waiting anxiously for the day this is really over. My heart and prayers are with my Boylston Street family. <3

— Rebekah Gregory (@rebekahmgregory) May 15, 2015
Liz Norden, who saw two of her sons each lose a leg in the bombing, said, "There's no winner today, but I feel justice for my family."
Karen Brassard, who was injured at the race, said that "it feels like we can take a breath and actually breathe again."
Asked if she was happy about the sentence, she said "happy" is not the word she'd use to describe her feelings.
"There's nothing happy about taking somebody's life. I'm satisfied," she said. "I'm grateful they came to that conclusion because, for me, I think it was the just conclusion."
My mother and I think that NOW he will go away and we will be able to move on. Justice. In his own words, "an eye for an eye".

— Sydney Corcoran (@Sydney23Lynne) May 15, 2015
Human rights group Amnesty International, while condemning the bombing itself, said the death penalty "is not justice" and "will not deter others from committing similar crimes in the future."
"It is outrageous that the federal government imposes this cruel and inhuman punishment, particularly when the people of Massachusetts have abolished it in their state," said Amnesty's executive director, Steven W. Hawkins. "As death sentences decline worldwide, no government can claim to be a leader in human rights when it sentences its prisoners to death."
We condemn the #Boston bombings & mourn lives lost. The #deathpenalty, however, is not justice. #Tsarnaevhttp://t.co/6h4Jpy2uSZ

— AmnestyInternational (@amnesty) May 15, 2015
Massachusetts Gov.Charlie Baker (R) said that he hopes the sentence "represents some kind of closure for all of those who were affected by this tragedy."
"We're a nation of laws. Juries make the call" regarding the death penalty, he added. "The decision should be made on the facts and the evidence and the law."
"While I certainly had an opinion on this my opinion didn't really matter. The only opinion that mattered was the one rendered by the jury."
Meanwhile, Boston Mayor Marty Walsh released the following statement:
"I want to thank the jurors and the judiciary for their service to our community and our country. I hope this verdict provides a small amount of closure to the survivors, families, and all impacted by the violent and tragic events surrounding the 2013 Boston Marathon."
"We will forever remember and honor those who lost their lives and were affected by those senseless acts of violence on our City. Today, more than ever, we know that Boston is a City of hope, strength and resilience, that can overcome any challenge."