Florida, California police forces scrutinized for racist, sexist communications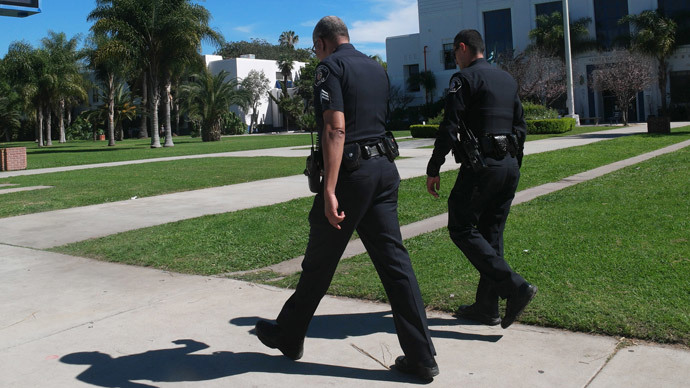 Police departments in Florida and California are currently subject to two separate investigations concerning questionable emails and text messages sent among officers.
The investigations into the racist materials come amid a tense moment nationwide for relations between police forces and the country's constituent communities, especially those of color, that they patrol. Fatal police shootings of unarmed black men, as well as the recent death of young Baltimorean Freddie Gray while in police custody, have ignited citizen anger in the likes of New York City, St. Louis, Cleveland, and Madison, Wisconsin.
In Miami Beach, at least 16 police officers – including two former high-ranking officials – are under investigation for hundreds of racist, pornographic and offensive emails spent between 2010 and 2012. Many of the emails were sent by Maj. Angel Vasquez and former Capt. Alex Carulo.
The emails were released on Thursday this week, as State Attorney Katherine Fernandez Rundle outlined a pattern of "juvenile behavior and locker room mentality" that reigned in Miami Beach under former police chief Raymond Martinez.
"Not only are weall offended by these emails, but this conduct seems to have been accepted by the department and permeated the highest ranks," she said during a news conference, according to the Miami Herald.
Among the emails in question, prosecutors are investigating one sent by Vasquez to someone outside the department containing pictures from the autopsy of Raymond Herisse, a man who was fatally shot by Miami Beach police in 2011.
"Disgraceful, criminal behavior," Miami Beach Police Chief Dan Oates said of the photo's release.
READ MORE: Police violence, executions, Gitmo: US grilled by UN human rights panel
Other emails included memes such as an image of "Black Monopoly" in which all board game squares depict a policeman saying "Go to Jail." Others mocked "illegal immigrants" and depicted golfer Tiger Woods and entertainer Snoop Dogg in "pimp" clothing. Hundreds of lewd or pornographic images were included, as well. Though there is no evidence that any of the nude photos are of underage girls, the images were still sent to the National Center for Missing and Exploited Children for review.
At least 16 officers sent or received 230 offensive emails, according to Oates. The emails first came to the department's attention upon a separate internal affairs investigation of Vasquez in 2013.
Looking for possible bias, prosecutors are now examining 540 criminal cases that involved the other officers that are part of the investigation.
Carulo's attorney said his client will fight his firing, which occurred late last week.
"There were other people involved in the emails who received them who presumably viewed them and did nothing about it," Eugene Gibbons said. "It wasn't just Carulo. It was a cultural thing that was going on within the police department."
Vasquez – described by Oates as a "charismatic, domineering figure within the organization with a reputation you do not cross" – retired last summer when confronted with the images.
READ MORE: Cops investigating after 10yo maced during Tony Robinson Minneapolis march
In San Francisco, 14 police officers are under investigation for allegedly racist and homophobic texts sent between officers that first came to light during a corruption probe. Police Chief Greg Suhr has attempted to fire eight of the officers. Two have since retired, according to the Associated Press. Six others will also face disciplinary ramifications.
San Francisco District Attorney George Gascon is looking for indications that the San Francisco Police Department has a larger problem to address.
"In the process of looking at the text messages, increasingly I became uneasy that this may not be localized to the 14 officers that were being reported, but that we may have some systemic issues," said San Francisco District Attorney George Gascon.
San Francisco Police spokesman Albie Esparza denied the department of 2,100 sworn officers–nearly half of which are minorities – has a widespread issue with discrimination.
"This was an isolated incident," Esparza said. "To say it's systemic is unfounded."
Attorneys for officers implicated in the scandal said the text messages at issue were "banter" and poor attempts at humor. The race of only two officers involved in the investigation is known at this point: Accused officers Michael Robinson and Ian Furminger are both white.
READ MORE: Communication breakdown complicated response to Baltimore riots - report
Investigators found numerous racially charged texts on Furminger's cellphone, including messages to other officers that included slurs about blacks, Mexicans, Filipinos and gays. The officers involved in the text routinely used the phrase "white power."
Furminger, who is currently serving a 41-month prison sentence in Colorado, has denied that he is "a virulent racist and homophobe," and that his "close friends include many persons of different races and different sexual orientation."
Upon receiving a promotion in 2011, Sgt. Yulanda Williams was called racist and sexist names in one text message that is part of the investigation. She indicated the culture in the department is in line with the discriminatory communications.
"We really have not moved as forward as we thought," she said. "I'm not prepared to say this was an isolated incident. This is just the tip of the iceberg."