Tony Robinson protest in Madison ends in arrests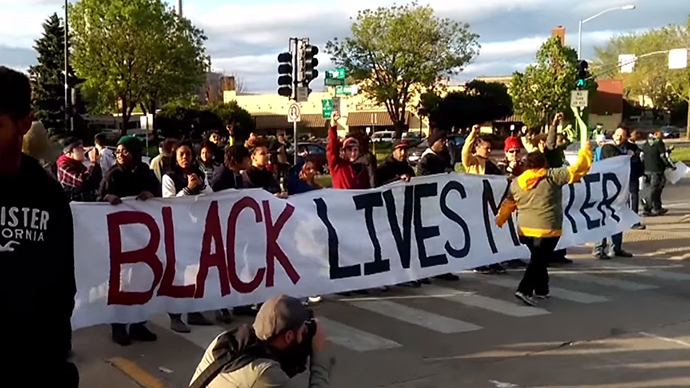 Police have arrested several demonstrators who stubbornly remained outside the Dane County Courthouse, following a day of protests over the District Attorney's decision not to indict the officer who fatally shot Tony Robinson, 19, in March.
Reporters on the scene estimate that anywhere from 15 to 25 arrests were made, as a group of protesters refused to leave the street outside the courthouse, several blocks away from the Wisconsin state capitol. Protesters linked their arms as they were being arrested, and some of them cried, reported AP.
Linking arms anticipating arrests #TonyRobinsonpic.twitter.com/3svR8mKdSz

— Allison Geyer (@journalistish) May 13, 2015
Another led away by police, only one remains in this line #TonyRobinsonpic.twitter.com/knFytji30R

— Bryna Godar (@bgodar) May 13, 2015
The protesters were a holdover from the peaceful demonstration that began Wednesday morning in front of the house where Robinson was shot, on Williamson Street. From there, the group estimated at 200 people marched to the courthouse.
Organized by the Young, Gifted and Black Coalition (YGB), the marchers convened a "people's court," charging the Madison police with racism and police brutality and demanding Officer Matt Kenny be punished for the shooting of Robinson. Another group chained themselves together outside the Dane County Jail entrance, demanding the release of inmates inside.
"If not Matt Kenny, NO ARRESTS" Chained. Madison, #TonyRobinsonpic.twitter.com/2EdfNPy2wa

— ShordeeDooWhop (@Nettaaaaaaaa) May 13, 2015
In addition, the YGB coalition and Freedom, Inc. started a petition calling for an independent investigation into Robinson's death.
"We are calling on the United Nations and the Organization of American States (OAS) to launch an independent investigation into the murder of Tony Robinson and racial disparities in Madison, WI, particularly the way police are used as an occupying force in Black communities," the petition says.
After Dane County District Attorney Ismael Ozanne announced on Tuesday that Officer Kenny would not be charged, Madison Police Chief Michael Koval called for peace while promising reforms. He also posted a list of behaviors that would be grounds for arrest by the police.
READ MORE: Madison officer who fatally shot unarmed teen will not be charged – District Attorney
"The issues confronting Madison go well beyond the pale of this verdict or our control," Koval wrote on his official blog. "Pronounced issues of poverty exacerbate feelings of despair and helplessness."
"I am not going to absolve law enforcement for whatever role we have played in being complicit in the calculus of racial disparities," Chief Koval wrote, adding that the best option for the future would be "systems improvements borne out of intentional, long-term, collaboration."
"Unrest like we have witnessed elsewhere in our country cannot possibly aid in constructive engagement and only holds us back," Koval wrote, alluding to protests in Ferguson, Missouri and Baltimore, Maryland that had at times turned violent. Previous protests in Madison, immediately following Robinson's death, were peaceful.
After reviewing all the evidence related to the incident, including 814 pages of reports and documentation provided by the Madison police, DA Ozanne concluded that Robinson's shooting by Officer Kenny was "lawful use of deadly police force." He also cited multiple 911 calls indicating that Robinson had been "tweaking" and "on drugs." Toxicology reports showed the presence of Xanax, marijuana and psilocybin (mushrooms) in his blood.
Ozanne was visibly nervous as he made the announcement, and prefaced it by saying he was the first person of color to become a DA in Wisconsin, and that his family had a history of civil rights activism.
"My decision is not based on emotion," Ozanne insisted. "Rather, this decision is based on the facts as they have been investigated and reported to me. This decision is guided by the law, and the oath I took to uphold the Constitution."
Robinson family attorney Jon Loevy countered that "many unanswered questions" remained about the case, and accused the officer of creating "a confrontation that led to an unnecessary death." Robinson's mother told CNN on Tuesday that the family was planning to pursue a civil lawsuit against the Madison police.
You can share this story on social media: