US official 'misspoke' about sending B-1 bombers to Australia amid S. China Sea dispute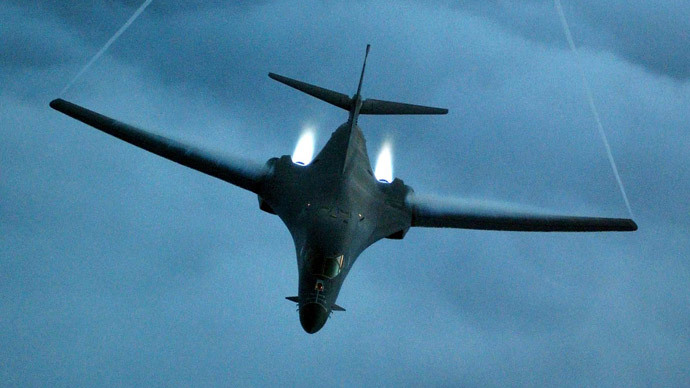 Amid rising tensions with Beijing in the South China Sea, the US plans to station "B-1 bombers and surveillance aircraft" in Australia, a Pentagon official told Senate committee. However, the DoD assured Australia that their representative "misspoke."
In addition to moving Marine and Army units around the region, Washington will be "placing additional Air Force assets in Australia as well, including B-1 bombers and surveillance aircraft," the US Defense Department's Assistant Secretary for Asian and Pacific Security Affairs, David Shear, said during testimony before the Senate Foreign Relations Committee (SFRC) on Wednesday, as quoted by Foreign Policy.
Australian Defense ministry however denied the claim, announcing that their US colleagues assured them Shear "misspoke" during his testimony.
"We are aware of the comments made by a US official in Congressional testimony overnight. The US government has contacted us to advise that the official misspoke," the Australian defence spokesman said as cited by Reuters.
The notion of sending bombers to Australia is not an entirely new idea; it was floated in 2013 by the then-commander of the Pacific Air Forces, Gen. Herbert 'Hawk' Carlisle, though it never transpired.
Shear stated that US military movements will also be taking place in other countries in the region, including the "deployment of Global Hawks and F-35s in Japan." He also said that Washington will be adding to the stock of V-22s in the country.
In addition, he stated that the US will have four Littoral Combat Ships in Singapore by 2020.
"We're deploying high-speed vessels to Singapore and Guam. We're putting a new Virginia class submarine in Guam as well, so we'll have no shortage of capabilities and assets throughout the region to back our diplomacy..."
The US Department of Defence (DoD) is thus "ensuring that US interests in the South China Sea are adequately protected," Shear said according to DoD press release.
The US is increasing military presence in the region, amid what it perceives as Beijing's highly assertive presence there. It follows China's recent island and airstrip construction in the disputed waters.
"We claim the right of innocent passage in such areas, and we exercise that right regularly, both in the South China Sea and globally," Shear said, accusing China of aggression.
READ MORE: US mulls sending military ships, aircraft near South China Sea disputed islands – report
China began reclaiming territory in the South China in 2014. The waters are also claimed by other countries in the region – Vietnam, Indonesia, Malaysia, Brunei, and the Philippines – which are trying to bolster their position there.
Shear stressed that all of the claimants except Brunei have developed outposts in the South China Sea's Spratley Islands. Of those countries, Vietnam leads the pack with 48 outposts. The Philippines and China are tied with eight outposts, while Malaysia has five and Taiwan has one.
According to him, China's reclamation of 2,000 acres since 2014 "dwarfs the efforts of all other claimants."
"China's actions could pose a range of military implications… such as developing long-range radars and intelligence, surveillance and reconnaissance aircraft to berthing deeper-draft ships and developing a diversion airfield for carrier-based aircraft," says a DoD press release, citing Shear's words.
China's Ministry of Foreign Affairs said on Wednesday it was "deeply concerned" by reports about the US sending ships to the South China Sea and demanded a clarification.
READ MORE: 'Ditch Cold War mentality': China hits back at US DoD
"Freedom of navigation certainly does not mean that foreign military ships and aircraft can enter another country's territorial waters or airspace at will," ministry spokeswoman Hua Chunying said.
China's Foreign Ministry argues that the country is entitled to national defense building, which is for the "sole purpose of safeguarding national independence, sovereignty, and national integrity."
Beijing has called on Washington to "abandon its Cold War mentality" and stop "doing or saying anything that jeopardizes bilateral relations and military-to-military mutual trust."
You can share this story on social media: