Turning off the tap: Detroit threatens water shut-offs again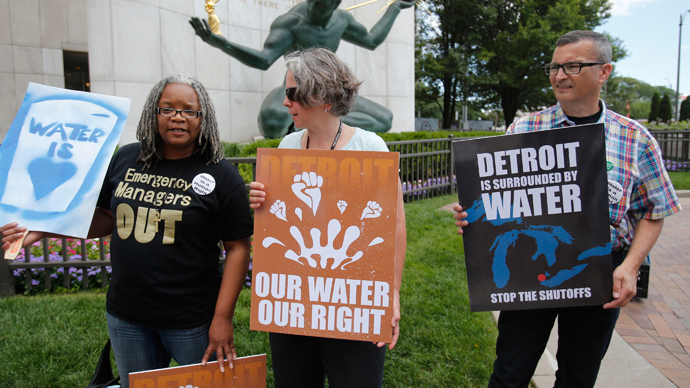 Detroit is threatening to shut off water to some 25,000 residents, giving them a deadline to pay their overdue water bills or sign up for a city payment plan. Critics say water cuts affect the poor and the vulnerable, violating their human rights.
The city sent out notices to thousands of families on Monday, warning everyone who owed more than $150 or was 60 days behind in payments that their water would be turned off within 10 days, unless they either paid up or signed up for a payment assistance plan.
The Michigan Welfare Rights Organization (MWRO) has started a petition calling on President Barack Obama to intervene against the shut-offs, which they say target "low-income families and have affected the homes of children, the disabled, and our honorable veterans."
"We want the shut-offs to end. Period. End of story." << #Detroit Water Brigade member. Full story - http://t.co/ZdbePMjEGI

— MintPress News (@MintPressNews) May 12, 2015
"These residents do not owe a lot of this money," investigative journalist Jefferey Jaxen told RT. The reason so many have fallen behind is that the city kept raising the price of water to cover for bad debts incurred by the Detroit Water and Sewage Department (DWSD), he said.
"In 2008, the city went into a death spiral of debt, and what was a soft decline turned into a free fall," Jaxen explained. The DWSD had a $6 billion debt, losing $1.5 billion to bad credit default swaps alone. Water prices rose 120 percent between 2004 and 2014, well beyond the US average. By the summer of 2014, the backlog of unpaid water bills was $90 million.
"Wall Street's hatchet man Kevyn Orr came in and made the decision to cut off essentially 40 percent of the city's water," Jaxen said, referring to the emergency manager who took over running Detroit between March 2013 and December 2014, while it was in bankruptcy.
Last June, the city rolled out a payment plan for the debtors. However, as the American Civil Liberties Union (ACLU) of Michigan pointed out, only 300 out of the 24,743 people who signed up were able to keep up with their payments.
"If people are already unable to pay their bills, how could you expect them to keep up if you add past-due payments on top of that?" MWRO chair Maureen Taylor told ACLU investigative reporter Curt Guyette. "The plan was fundamentally flawed from the beginning, and we said that."
READ MORE: Thirsty for justice: Detroit protesters flood streets over water shutdown
As a result, of Detroit's 170,493 residential customers, "73,457 were at least 60 days past due as of the end of February," Guyette wrote. Detroit Mayor Mike Duggan is now considering a new payment plan that would write off some of the debt in exchange for payments, and that would base the payments on the customers' income.
According to the Detroit Metro Times, the mayor's plan to have the Detroit Water Fund cover the arrears and delinquent bills may not be entirely feasible. "There's only about $1.4 million left in that fund," the publication wrote. "Taking into consideration that DWSD still has $47 million in outstanding bills — well, the math doesn't really add up."
Last summer, UN Special Rapporteur on adequate housing Leilani Farha, UN Special Rapporteur on extreme poverty and human rights Philip Alston, and UN Special Rapporteur on the right to safe drinking water and sanitation Catarina de Albuquerque, criticized the water shut-offs as discriminatory and a "violation of the human right to water."
You can share this story on social media: