Sheriff asks for more time in 5.5-month-long Tamir Rice investigation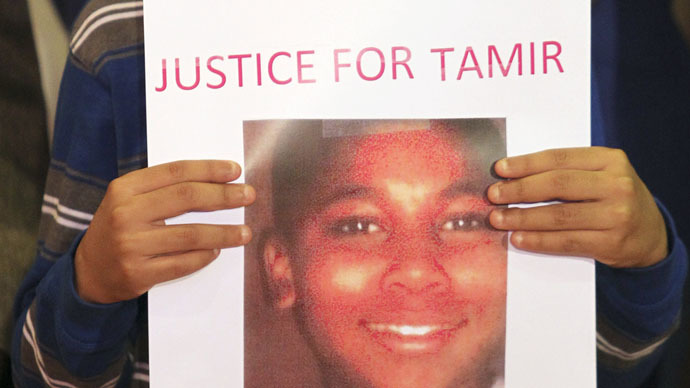 Cuyahoga County Sheriff Clifford Pinkney said his department has not yet finished interviewing people in the November officer-involved shooting death of 12-year-old Tamir Rice in Cleveland, Ohio, and asked for more time to complete the investigation.
"All parties involved know that my department is conducting a fair, impartial and thorough investigation ‒ one that leaves zero stones unturned before turning it over to county prosecutor Tim McGinty," Pinkney told reporters at a press conference Tuesday morning.
The short statement was met with discontent from the family of Rice and people who gathered at the presser.
Tamir Rice cousin says family wants charges and indictments in his case. Can't understand investigation's delay pic.twitter.com/3YkIZysiry

— Michael Hall (@AugustEve2012) May 12, 2015
He went through a timeline of events, beginning with the encounter between Rice and Cleveland Police Officers Timothy Loehmann and Frank Garmback, through where the investigation stands today.
"My investigators have poured over thousands of pages of documents, and conducted numerous search warrants and interviews with witnesses," Pinkney said. "We've also reviewed any, and all, surveillance from the surrounding area, and conducted a 3D measurement scan at the Cudell Rec Center."
Why? Tamir was shot in under 2 seconds. What more does he need to know? Justice delayed is justice denied. https://t.co/0uxiswLOOx

— Midwin Charles (@MidwinCharles) May 12, 2015
He noted that the majority of the investigative work is complete, but that a few more witnesses need to be interviewed and additional forensic evidence needs to be collected.
Rice's family was unhappy with the lack of movement in the case, and yelled at Pinkney as he left the room after refusing to answer any questions, according to WOIO's Scott Taylor.
In April, city attorneys on behalf of Loehmann and Garmback filed a motion to halt a lawsuit against them until the criminal investigation and potential prosecution is complete. Rice's family filed suit against the two officers and the city of Cleveland in January. Over 100 others, including 911 operators, police officers and other city employees are also named in the case.
READ MORE: City of Cleveland says 12-yr-old boy killed by cops was culpable for his death
The officers argued that allowing the civil suit to proceed as the criminal investigation is ongoing would prejudice both cases.
"Here, it is undisputed the Cuyahoga County Sheriff's Office is investigating Officer Garmback and Officer Loehmann about the same incident that is the subject of this civil action," the motion said. "If civil discovery were to proceed simultaneously at the same time, therefore, it would unduly interfere with the integrity of the criminal proceedings."
On November 22, 2014, Loehmann and Garmback responded to reports of a person with a gun at Cudell Recreation Center, an area park. Within two seconds of exiting the police cruiser, Loehmann fired two shots at Rice, striking him once in the abdomen and killing the 12-year-old. The release of the 911 tape later revealed the caller said he thought the gun was being brandished by a juvenile and was "probably" fake.