US Defense Dept. spent $5.4mn taxpayer dollars to buy NFL game ads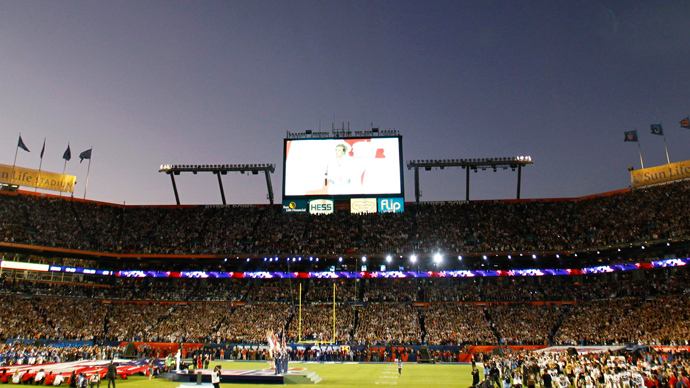 Despite cuts to military spending enforced by Congress and the president, the Defense Department paid $5.4 million in taxpayer dollars, over a three-year period, to 14 NFL teams on ad campaigns promoting the military, reported the New Jersey Advance.
From 2011 to 2014, the Department of Defense paid $5.4 million to NFL teams for salutes to the military and other advertising, with $5.3 million coming from the National Guard, according to federal contracts.
READ MORE: "Compromised & gone': Pentagon lost $500mn of weapons, equipment in Yemen
The majority of the money under "advertising and marketing," according to NJ Advance, was spent by the Army and National Guard and, in 2014, included the following payments: the Atlanta Falcons received $114,500, the Buffalo Bills $150,000, the Green Bay Packers $50,000, the Indianapolis Colts $200,000, the New York Jets $115,000, the Pittsburgh Steelers $27,000 from the Air Force, and St. Louis Rams $60,000.
The revelation first surfaced during Arizona Sen. Jeff Flake's "weekly roasting of egregious federal spending" and his #PorkChop campaign, which last week "roasted" the New Jersey Army National Guard for spending roughly $100,000 dollars on advertising segments at a Jets home game.
"Between $97,500 and $115,000 [went] to the NFL's New York Jets for 'advertising and promotion' that fans may have assumed were genuine gestures to thank and recognize soldiers," said Sen. Flake on his website.
Flake said the money went towards featuring pictures of New Jersey Army National Guard (NJANG) soldiers as Home Town Heroes. Their pictures were displayed, their names were announced by loud speaker, and tickets for them and their friends or family were granted from the club room.
READ MORE: Pentagon's 'Force of the Future' drive could ease job recruitment standards
Another 10 soldiers attended the kickoff lunch in New York City, with their pictures taken with the team and then used for recruiting and retention purposes by the Guard. Another project involved Jets players and soldiers building or refurbishing a new playground or existing park, again for recruiting or retention purposes.
Flake said most in the general public believe the segments were heartfelt salutes by their hometown football team, not an advertising campaign paid for with their money. The Guard defended the arrangement as an effective recruitment tool for the force, while the Jets pointed out numerous other ways in which they support the military.
The items were listed under a Statement of Work as "advertising and marketing" between the NFL and NJANG. After an initial conversation between Flake's office and the NJANG, the Guard stopped returning his calls.