Woman fired for uninstalling app on company phone that tracked her 24 hrs a day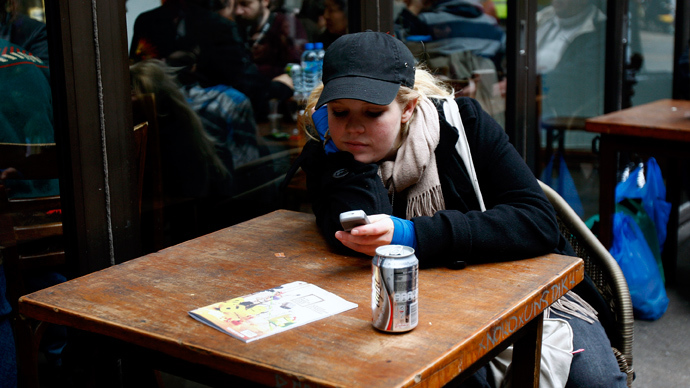 A California woman has sued her former employer, which fired her shortly after she disabled a GPS tracking feature on her company iPhone. The app was used to monitor employees even on their personal time, the lawsuit alleged.
Myrna Arias has claimed that her boss, John Stubits, at money transfer service Intermex in Bakersfield boasted about monitoring employees' locations while they were not on the job, according to the lawsuit filed in Kern County Superior Court.
Arias, a sales executive for the company, said she was "scolded" and subsequently fired -- even though she "met all quotas during her time with Intermex -- after she uninstalled Xora, a mandatory job-management app that was applied to company phones.
"After researching the app and speaking with a trainer from Xora, Plaintiff and her co-workers asked whether Intermex would be monitoring their movements while off duty," the suit says.
"Stubits admitted that employees would be monitored while off duty and bragged that he knew how fast she was driving at specific moments ever since she installed the app on her phone. Plaintiff expressed that she had no problem with the app's GPS function during work hours, but she objected to the monitoring of her location during non-work hours and complained to Stubits that this was an invasion of her privacy. She likened the app to a prisoner's ankle bracelet and informed Stubits that his actions were illegal. Stubits replied that she should tolerate the illegal intrusion…."
READ MORE: New Apple patent could let you track friends in real time
The suit alleged invasion of privacy, retaliation, and unfair business practices, among other accusations.
"This intrusion would be highly offensive to a reasonable person," the lawsuit claimed.
Arias' attorney told Ars Technica that the mandatory app was intrusive in its constant monitoring.
"The app had a 'clock in/out' feature which did not stop GPS monitoring, that function remained on," Gail Glick said.
"This is the problem about which Ms. Arias complained. Management never made mention of mileage. They would tell her co-workers and her of their driving speed, roads taken, and time spent at customer locations. Her manager made it clear that he was using the program to continuously monitor her, during company as well as personal time."
Arias is seeking damages in excess of $500,000. Intermex did not immediately respond to Ars Technica for comment.
You can share this story on social media: