Baltimore 'broken windows' teen freed on $500k bail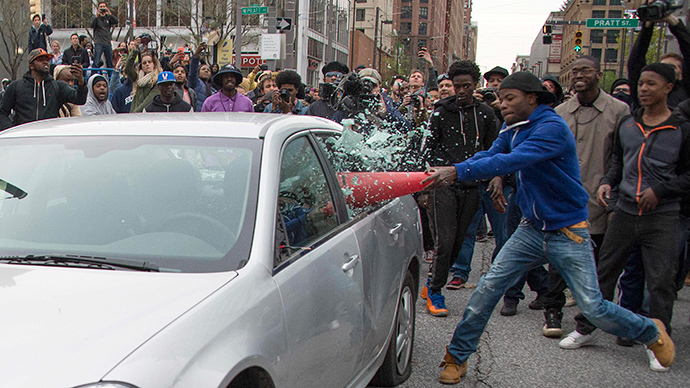 A Baltimore teenager who turned himself in after smashing a police car during last month's unrest was finally released, after community and donors raised the $500,000 bail, set higher than for any of the officers charged in the death of Freddie Gray.
Allan Bullock, 18, was photographed using a traffic cone to smash the windows of a Baltimore PD car during the April 25 protest outside Camden Yards baseball stadium. Bullock turned himself in four days later, on the advice of his parents, after a state of emergency was declared following the April 28 riot.
Court recs appear to show accused rioter Allen Bullock was released yesterday. Bail was set at $500k #AllenBullockpic.twitter.com/qAXiI8m8Mc

— Jason Newton (@JNNewtWBAL) May 8, 2015
Maurice Hawkins, Bullock's stepfather, told the teen he ought to surrender before the police "find him, knock down our door and beat him."
To the chagrin of Bullock's family, a Baltimore district judge set his bail at $500,000. Later that week, the state attorney charged six Baltimore PD officers in the wrongful death of Freddie Gray, with the highest bail set at $350,000.
READ MORE: Justice Dept opens probe into Baltimore police
"It is just so much money," Bullock's mother Bobbi Smallwood told The Guardian afterwards. "Who could afford to pay that?"
"As parents we wanted Allen to do the right thing," Smallwood said. "He was dead wrong and he does need to be punished. But he wasn't leading this riot."
Despite the efforts of public defenders and advocates to lower the bail amount, the authorities would not relent. Eventually, community activists and donors from around the world scrounged up the funds to cover the bond. The teen was released Thursday.
"He's got a ton of family support. He's got a ton of community support. Many from around the country and the world are supporting this young man," Bullock's attorney Brandon Mead told the Baltimore Sun.
Thanks to @Bmore_United & #Baltimore Legal Defense, Allen Bullock is free on bail! Thanks to all who supported, but we must remain vigilant.

— Dr. Heber Brown III (@HeberBrown) May 8, 2015
Bullock's bail has been criticized as an example of law enforcement's bias in the treatment of African-Americans. The eight misdemeanors he was charged with were his first criminal charges as an adult. One of the offenses, rioting, carries a maximum sentence of life in prison.
"He turned himself in. That's not even right," said Hawkins. "They are trying to make an example out of him."
"I think the $500,000 he's released on is an example of the arbitrary and capricious nature of our bail system," said State Delegate Jill Carter, a Baltimore Democrat, who met with Bullock after his release.
Ferguson community organizer Deray Mckesson, who came to Baltimore to join the peaceful protests, famously criticized the notion that "broken windows are worse than broken spines."
"Freddie Gray will never be back. Those windows will," Mckesson told CNN's Wolf Blitzer.
"You are suggesting broken windows are worse than broken spines" Activist Destroys @CNN's Blitzer http://t.co/ByUBlkMydl#baltimoreriots

— Ben Swann (@BenSwann_) April 29, 2015
Gray, 25, was arrested on April 12, because he ran away from police after "making eye contact." Later that day he was admitted to the hospital with his spine severed at the neck. After a week in a coma, Gray passed away. On April 27, the day of his funeral, clashes between police and high-school students in West Baltimore escalated into a riot.