Senate passes bill giving Congress right to review Iran nuke deal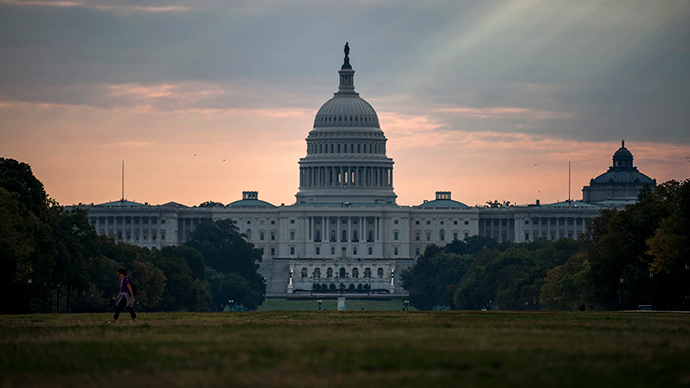 By a 98-1 vote, the US Senate passed a bipartisan bill that would give Congress review rights over the White House's Iran nuclear deal. The bill is expected to pass in the House, and has President Obama's support.
The White House originally opposed the bill, proposed by Senate Foreign Relations Committee chairman Bob Corker (R-TN), until some of its provisions were revised in a compromise deal with the committee's ranking democrat, Ben Cardin (D-MD) last month.
The compromise won over enough Democrats that President Obama withdrew his veto threat. The draft bill was approved by the committee unanimously.
Senate passes Iran bill 98-1 Sen cotton the lone no vote. Pic of Sen. Cardin and Sen Corker at press conf. pic.twitter.com/3oQUo7wd7E

— David Woodruff (@gop_maryland) May 7, 2015
However, a faction led by Tom Cotton (R-AR) and Marco Rubio (R-FL) attempted to insert a number of amendments into the bill during the floor debate, including a provision requiring Iran to recognize Israel as a Jewish state.
READ MORE: Senate's Iran bill won't require Tehran to recognize Israel – reports
Several other amendments had already been defeated. One would've classified any nuclear deal as an international treaty requiring the support of two-thirds of the Senate, while another would have denied Iran sanctions relief until it stopped supporting terrorism.
Corker defended the compromise, warning that altering the compromise would cause the entire bill to fail, and Congress to lose any right to review the treaty. "Without this bill, there is no review," he warned.
In the end, Senate Majority Leader Mitch McConnell (R-KY) called for cloture, cutting off debate on all further amendments. The chamber voted 96-3 in favor, clearing the way for the final vote, in which Cotton was the lone voice of dissent.
"Many wish the bill was stronger. I don't disagree with them, but this is a piece of legislation worthy of our support," McConnell said during the floor debate. "It offers the best chance we have to provide the American people and the Congress they elect with power to weigh in on a vital issue."
BREAKING: Corker bill passes senate 98-1 Now, focus turns to effort by some to vote down Obama's historic #IranDeal in July/Aug

— Trita Parsi (@tparsi) May 7, 2015
"As currently drafted, it is a virtual certainty that no matter how terrible this deal is, it will go into effect and this legislation is unlikely to stop it," Ted Cruz (R-TX), one of the Republican presidential contenders, said during the debate.
"I applaud the Senate for passing this bill, and thank Senator Corker and others for their hard work," said House Speaker John Boehner (R-Ohio) Thursday. "I look forward to House passage of this bill to hold President Obama's administration accountable."