NY Gov. considers wage increases for fast food workers, bypassing lawmakers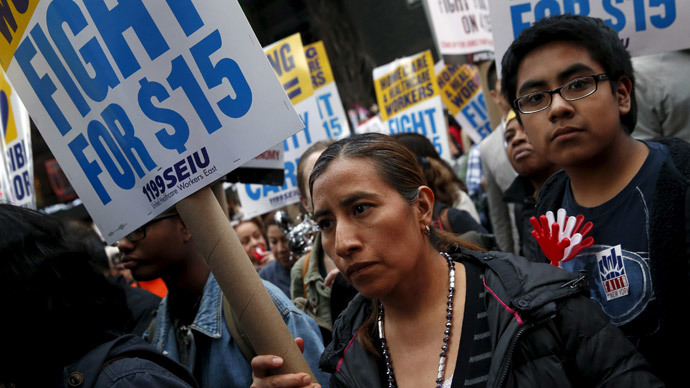 New York Governor Andrew Cuomo announced in a New York Times Op-Ed article that he would ask the state labor commission "to convene a panel to consider whether fast food workers' wages should be raised."
Cuomo didn't indicate in his Wednesday op-ed how much he hopes to raise the wages by, but he did mention his past attempts to increase the minimum wage before they were stymied by New York State lawmakers.
"In 2013, I raised New York State's minimum wage; it is now $8.75, up from $7.25 (and will rise to $9 at the end of the year). In my latest budget, I proposed raising it again, to $11.50 in New York City and $10.50 elsewhere in the state. But the Legislature rejected that proposal. So I am continuing the fight. While lawmakers delay, I am taking action," Cuomo wrote.
Cuomo has the authority under state law to direct the labor commission to study wages in a particular industry or job classification, something he said he would do on Thursday. The governor expects a recommendation from the panel in about three months.
READ MORE: Thousands demand higher wages during #Fightfor15 rallies
He added that "While American capitalism never guaranteed success, it did once guarantee opportunity." He recognized that too many Americans "don't believe their children will have a better life than their own." Cuomo thinks the answer is not stifling the wealthy, but lifting up those on the bottom "through raising labor standards, starting with the minimum wage."
Cuomo said the income gap is most extreme in the fast food industry, where CEOs are among the highest-paid corporate executives. The "average fast food CEO made $23.8 million in 2013 … entry-level food service workers in New York State earns, on average, $16,920 per year,"Cuomo wrote.
There are about 180,000 fast food workers in the state and more than one-third of them work in New York City. Cuomo said fast food workers and their families are twice as likely to receive public assistance compared to other workers, and the state ranks first in public assistance spending per fast food worker, at $6,800 a year.
"That's a $700 million annual cost to taxpayers," he said. Despite the profits made by the fast food industry, "the government is subsidizing these corporations, allowing them to keep their labor costs low and their profit margins high."
"Through the Wage Board, New York can set fast food workers on a path out of poverty, ease the burden on taxpayers and create a new national standard."
The governor's announcement was met by criticism from business groups concerned he was going around the state legislature, which usually sets wage policy.
READ MORE: McDonald's raises pay, improves benefits for 90,000 employees
"In regions of New York that have yet to reclaim jobs lost in the 2009 recession, artificially inflated wages will not promote job creation,"Ken Pokalsky, vice president of the Business Council of New York State, told The New York Times. "New York needs to focus on policies that enable us to produce real private sector growth."
Ahead of a wage strike at fast food outlets on April 15, McDonald'sannouncedit was raising the minimum wage to $9 an hour, but only at the 1,500 corporate-owned restaurants. This would affect 90,000 workers, leaving 90 percent of workers at more than 14,000 franchises without a wage increase.
These announcements have followed several years of action by the Fast Food Workers Campaign, backed by the Service Employees International Union, which has orchestrated protests across the country demanding workers be paid $15 an hour.