Washington teachers conduct rolling strike over lack of education funding
Published time: 6 May, 2015 00:41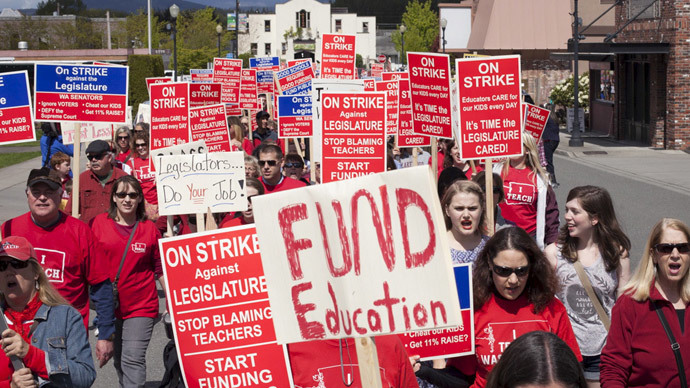 The largest teachers' union in Washington will walk out of class for a one-day strike. Thousands of Seattle educators will become the state's latest group to demonstrate for better pay, smaller class sizes and less standardized testing.
The Seattle Education Association (SEA) voted to hold a day of action on May 19, joining teachers from nearly 30 districts across the state in protest, the union said Tuesday. Nearly 85 percent of the union members voted in favor of the walkout.
"There's going to be disruption, no doubt about it," said Jonathan Knapp, president of the SEA. "And to a certain extent that's the point. To really make a strong statement to the legislature that this action is pointed at them ... to say you need to do more."
Solidarity with teachers. Best B'ham #teacherstrike sign so far. Wake up #WaLeg#WaEdupic.twitter.com/ec3ntPyqkn

— r.m. dustn (@rdustin) April 24, 2015
Washington has faced rolling strikes since April 22 demanding state lawmakers fully fund a voter-approved initiative to lower class sizes, KING reported. They are also asking legislators not to cut teacher pay.
"This movement is about making sure that the legislature does the job they were elected to do," SEA said on its website. "It's about saying no to an ongoing failure to provide the basic education our kids deserve, the kind of education that kids in virtually all other states can count on. With perhaps the strongest economy in the country, there is simply no excuse for the continued failure to fund education."
#teacherstrike dntn #mountvernon Fri at #skagitcourthouse@Kera_SVHhttp://t.co/a38b0OgWbNpic.twitter.com/i0urw2JC8Y

— Skagit photos (@photo_SVH) April 24, 2015
Washington currently ranks 47th for class sizes in the country and 42nd in per-student funding allocations, Knapp told Reuters. The budget currently being considered is $1.3 to $1.4 billion, which teachers say falls short of the requirement.
"We're really down at the bottom of the barrel, which is an embarrassment for such a progressive state," he said.
100s including parents and students show up to support teacher's one day strike #liveonkomo 4&6pm pic.twitter.com/h7uWAKRD3h

— Michelle Esteban (@MichelleKOMO) April 22, 2015
The state Supreme Court found the legislature in contempt in September and ordered lawmakers to fully fund schools, though it declined to issue any sanctions until the end of the 2015 legislative session.
"When you have a class of 30 kids, you cannot get to everybody who needs help, no matter how hard you try," Tracey Carr, a 5th-grade teacher in the Lakewood School District, told KCPQ, noting that she hasn't seen any changes despite the approval of Initiative 1351 and the Supreme Court ruling.
Arlington #teacherstrike: We have a simple message today! Fully fund schools NOW! #WaLeg#WaEdu@WASenDemocratspic.twitter.com/cjMTo2fjbm

— Susan DuFresne1 (@GetUpStandUp2) April 22, 2015
Teachers haven't received a cost-of-living adjustment (COLA) in six years. They are scheduled to receive a 3 percent COLA increase spread across two years, but will not receive any increase in health care funding, which means "teachers will take home less money next year as health care costs rise," the Washington Education Association, the state teachers' union, said in a statement, adding that "legislators are in line to get 11 percent raises."
Lakewood, Stanwood-Camano and Arlington were the first school districts to walk out on April 22, followed by Bellingham, Blaine, Conway, Ferndale, Mount Vernon and Anacortes on April 24, the WEA said.
"Our members feel strongly that the time is now to get something done and, the lack of progress in Olympia is unacceptable," said Randy Davis, Marysville Education Association president. "We expect the Legislature to fully fund smaller class sizes in every grade level as required by voter-approved I-1351, and we need the state to fund competitive, professional salaries and benefits so we can continue attracting and keeping qualified, caring teachers for our kids."
Seattle teachers will hold 1-day strike over school funding http://t.co/TUhwUEcTNGpic.twitter.com/CVv4unW5iC

— TALK RADIO 570 KVI (@KVIseattle) May 5, 2015
On Wednesday, nearly 3,000 educators in the Northshore and Lake Washington School Districts will walk out. Teachers in Snohomish, Lake Stevens and Franklin Pierce school districts will stage a one-day strike of their own this Friday, according to the WEA.
At an hour-long rally in Olympia in April, Gov. Jay Inslee, House Speaker Frank Chopp and other politicians spoke about efforts to improve education in Washington. Inslee, a Democrat and the son of a teacher, called fixing the public education system "the paramount duty of the state of Washington," KOMO reported.