Pennsylvania Court strikes down law aimed at keeping convicts out of public eye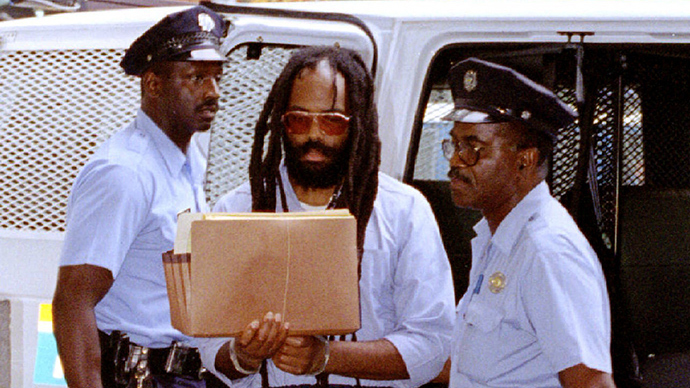 A federal court in Pennsylvania overturned the Revictimization Relief Act, which aimed to ban convicted criminals from speaking publicly.
The federal district court on Monday said the statute introduced by lawmakers violated the first amendment rights of one-time death row inmate Mumia Abu-Jamal and other prisoners. The law was introduced in response to Abu-Jamal's appearance at a Goddard College commencement address in Vermont in October 2014.
READ MORE: Poor training resulted in more than 400 shootings by Philadelphia police - Justice Dept
"The fact that certain plaintiffs have been convicted of infamous or violent crimes is largely irrelevant to our first amendment analysis. A past criminal offense does not extinguish the offender's constitutional right to free expression," Judge Christopher Conner wrote. "The First Amendment does not evanesce at the prison gate."
Judge Conner wrote the law was unconstitutionally vague and overbroad. He worried that it would deter not only the speech of convicted criminals, but also people who redistribute speech such as producers quoting criminals in radio programs or newspapers publishing interviews with criminals. Conner said a law restricting expression based on content was "inherently suspect."
@RUCamlaw adjunct Eli Segal wins big #firstamendment case: nixing PA law limiting convicts' speech 2 protect victims http://t.co/Z4lYTOvdfW

— Ellen Goodman (@ellgood) May 4, 2015
Attorney Eli Segal and the American Civil Liberties Union, who brought suit against the law, told the Associated Press that the decision "says loud and clear that all of us in this commonwealth have the right to freedom of speech."
Steve Miskin, the spokesman for the Pennsylvania House GOP leadership told AP that Conner's ruling "is woefully short of the fact. It begs the question: Did he even read the law?"
"The point of the law was to look out for victims," he added.
The Revictimization Relief Act, passed by Pennsylvania lawmakers in October 2014, said a victim of a personal injury crime may bring a civil action against an offender to restrict them from conduct that could perpetuate the continuing effect of the crime on the victim, including conduct causing a temporary or permanent state of mental anguish.
READ MORE: Hundreds rally on DC streets for Mumia Abu Jamal's release
Mumia Abu-Jamal, an American activist and journalist, was convicted in 1982 for the 1981 murder of Pennsylvania Police Officer Daniel Faulkner. He was on death row for 30 years before appeals converted his death penalty to life without parole. Abu-Jamal claims he is a victim of a racist justice system. The Faulkner family, public authorities, police organizations and self-described conservative groups have maintained that Abu-Jamal's trial was fair, his guilt undeniable, and his death sentence appropriate.
Earlier this year, Tom Wolf, the Governor of Pennsylvania, offered the state's 186 death row inmates temporary reprieves from execution, calling the system "error prone, expensive and anything but useful."
READ MORE: Pennsylvania governor declares moratorium on "unjust" death penalty
Wolf said that if the state is going to "take the irrevocable step of executing a human being, its capital sentencing system must be infallible." He said the system was riddled with flaws and studies had called into question the accuracy and fundamental fairness of Pennsylvania's capital sentencing system. The studies suggested there were inherent biases indicating that a person is more likely to be charged with a capital offense and sentenced to death row if he is poor or part of a minority racial group; especially so if the victim of the crime was white.
You can share this story on social media: