My Brother's Keeper: Obama announces new foundation for helping young minority men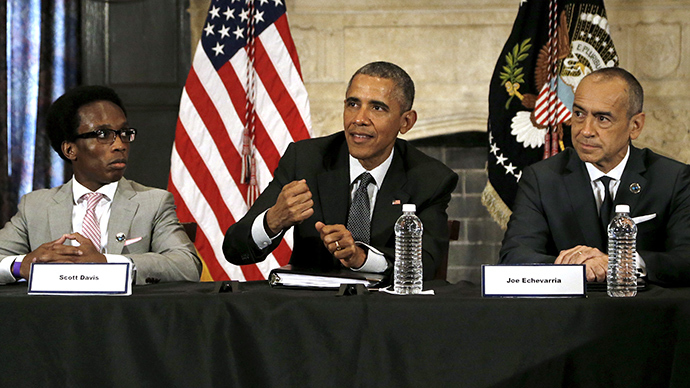 President Obama announced a new nonprofit, based on his existing program for mentoring young minority men. America's future depends on this, he argued, saying he would dedicate himself to the organization after leaving the White House.
In an emotionally-charged speech at Lehman College in the New York borough of the Bronx, Barack Obama announced the creation of a separate nonprofit called 'My Brother's Keeper Alliance.' Obama's remarks suggested he intended to focus on the project throughout the remainder of his presidency and beyond.
"We are in this for the long haul," Obama said, adding that the project would be his mission "not just for the rest of my presidency, but for the rest of my life."
Honored to host President #Obama as he launches @MBK_Alliance initiative to expand opportunities to the #AmericanDream

— Lehman College (@LehmanCollege) May 4, 2015
The Alliance is a spin-off of the 'My Brother's Keeper' initiative Obama started in 2014 after the tragic death of Florida teen Trayvon Martin. A White House website states its purpose as addressing the "persistent opportunity gaps faced by boys and young men of color" and helping "ensure that all young people can reach their full potential."
Everything about his presidency from rescuing the economy to healthcare has been dedicated to the pursuit of creating opportunity for everybody, Obama told the audience at Lehman. However, the "tragic history" of the US has "made it tougher for some" to succeed.
He pointed to a sense of unfairness and powerlessness felt by minority youth as the driving force behind the protests and violence in places like Ferguson, Baltimore and elsewhere. He said the police were then given the tough job of containing the discontent, while society did nothing to deal with the underlying sources of the problem.
READ MORE: Long hot summer ahead: Americans expect more riots, divided as to why
"I'm not interested in blame," Obama said. "I'm interested in responsibility, and I'm interested in results."
The current head of the nonprofit is Joe Echevarria, former CEO of Deloitte. Many other corporations have come on board, and the alliance has secured over $80 million in commitments for its programs, Obama said. He argued that the foundation was not being driven by charity, but the economic rationale of creating a better educated, more productive future US workforce.
"It's about who we are as a people," Obama added. "What kind of society do we want to have? What kind of country do we want to be?"

"America's future depends on us caring about this," the president said. "All the young people there who are struggling, the simple point to make is: you matter. You matter to us."
In a very personal MBK speech, Obama talks about growing up "adrift," w/o a dad. "The simple point to make is you matter. You matter to us"

— Juliet Eilperin (@eilperin) May 4, 2015
The Alliance's goals will be to support young men at key points in their lives. Specifically this means ensuring they learn to read in early childhood, graduate from high school, enter and graduate from college, and find their way into the workforce. The programs are intended to prevent young men from falling afoul of the law and ending up in prison, and to give a second chance to those that have.
Among the names mentioned as possible members of new nonprofit's advisory board are singer John Legend, former NBA stars Alonzo Mourning and Shaquille O'Neal, former NFL star Jerome Bettis, former Attorney General Eric Holder, former Secretary of State General Colin Powell, and Senator Cory Booker (D-NJ).
You can share this story on social media: