Long hot summer ahead: Americans expect more riots, divided as to why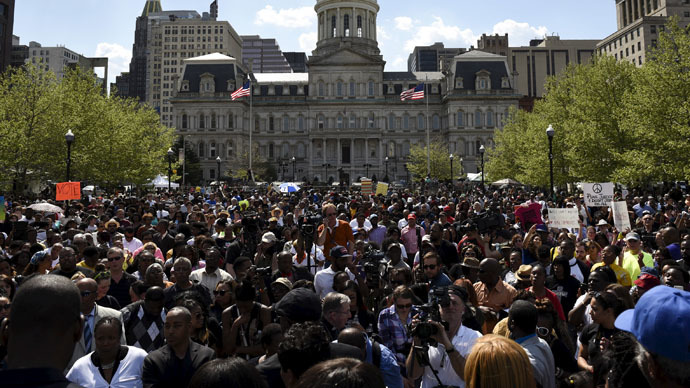 Nine out of ten Americans believe there will be more racial disturbances this summer, and half think they will hit close to home, new polls say. Black and white Americans have a drastically different view of what is driving the violence.
An overwhelming 96 percent believe unrest akin to what recently happened in Baltimore is likely this summer, a Wall Street Journal/NBC News poll released Monday reveals. Some 46 percent of African Americans polled are less likely to think violence would happen in a city close to them, compared to 53 percent of white respondents.
The poll was conducted last week, as protest marches followed a day of riots in Baltimore. According to the Wall Street Journal's "Washington Wire" blog, the results are "a signal that Americans believe Baltimore's recent problems aren't a local phenomenon but instead are symptomatic of broader national problems."
WSJ/NBC poll finds blacks and whites view the racial unrest in Baltimore and elsewhere in the U.S. differently. http://t.co/bWQUafncub

— Capital Journal (@WSJPolitics) May 4, 2015
Asked to choose between two possible explanations of events in Baltimore, 60 percent of black respondents said they were a reflection of "long-standing frustrations about police mistreatment of African Americans," while 27 percent said the riot was caused by people who used the protest "as an excuse to engage in looting and violence."
Among the white respondents the proportion was almost entirely reversed, with 58 percent believing it was people using an excuse to loot, and only 32 percent blaming the long-standing frustrations with police.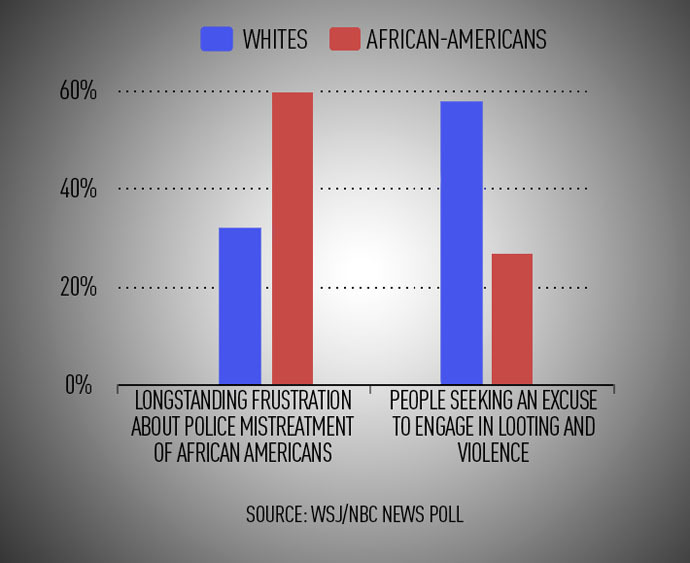 Conducted from April 28-30 on a sample of 508 adults, 111 of which were African-Americans, the WSJ/NBC poll asked questions about Baltimore and racial disturbances. The margin of error was plus-or-minus 4.35 percentage points overall, and higher for sub-groups, the pollsters noted.
READ MORE: Planned purge and thugs: US media criticized for Baltimore coverage
An overwhelming majority of African-Americans, 69 percent, believe the government only pays attention to black problems "when blacks resort to violent demonstrations or riots," while only 15 percent disagree, a survey conducted in the same timespan by the UK-based pollsters YouGov indicates.
By contrast, only 37 percent of white respondents thought the government only paid attention to violence during times of violent unrest, while 47 percent disagreed.
**major** differences between black/white perceptions of police treatment, riots in @YouGov@HuffingtonPost poll: http://t.co/52giTiC2mQ

— The Pollsters (@ThePollsters) May 1, 2015
The poll also found white respondents almost evenly split on whether the death of Baltimore resident Freddie Gray while in police custody was an isolated incident (36 percent) or part of a broader pattern (38 percent). In a January poll, 56 percent of whites believed Michael Brown's death in Ferguson, Missouri was an isolated incident, and 31 percent saw a pattern.