NYPD officer shot in the head dies of injuries
Published time: 4 May, 2015 17:32
Edited time: 4 May, 2015 22:29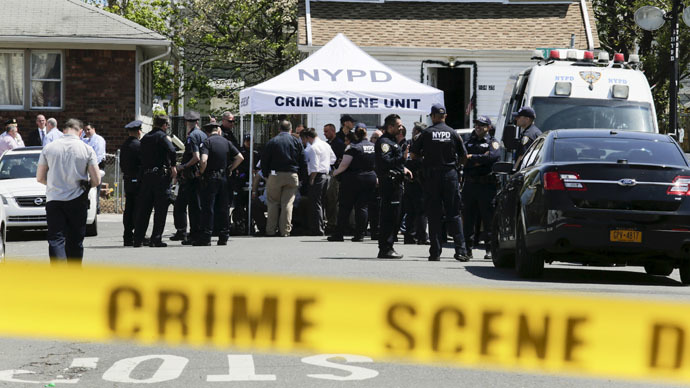 New York Police Department Officer Brian Moore has died after a suspect shot him in the head and chest in the borough of Queens. An ex-con accused of the shooting will likely face a murder charge in the incident. The suspect was already in custody.
READ MORE: NYPD cop shot in head, suspect detained in manhunt
Moore was driving an unmarked car and was in plainclothes on Saturday evening with a group of anti-crime officers in Queens Village when he was shot. Police identified the shooter as Demetrius Blackwell, a 35-year-old self-described "hell-raiser" with a lengthy rap sheet, who was arrested 90 minutes after Moore was injured, the New York Daily News reported.
"We need to be thankful that there was a hero amongst known as Brian Moore." - Mayor @BilldeBlasio. Watch live on http://t.co/10woidEfEd.

— NYC Mayor's Office (@NYCMayorsOffice) May 4, 2015
"This was nothing more and nothing less than a cold-blooded attempt at an assassination of New York's finest," Assistant District Attorney Peter McCormack said at Blackwell's arraignment and prior to Officer Moore's death.
Moore and his patrol partner Erik Jansen ‒ who was also in plainclothes ‒ approached Blackwell after seeing him tugging at his waistband, McCormack said. Moore identified himself as a police officer and asked, "Do you have something in your waistband?"
"Yeah, I got something," Blackwell responded, before pulling out a gun and firing two or three shots into the officers' car, the New York Daily News reported.
#NYPD Officer Brian Moore has died after being gunned down by a violent ex-convict, he was an #EverydayHero. #RIPpic.twitter.com/lRfE3gCDhH

— DC Frank Carter (@DCFrankCarter) May 4, 2015
Moore was hit in the cheek, while Jansen escaped uninjured, and was able to radio for help.
The injured officer died Monday after his family took him off life support, NY1 News reported.
"Our hearts are with the Moore family. This is a family that has done so much for the rest of us." - Mayor @BilldeBlasio.

— NYC Mayor's Office (@NYCMayorsOffice) May 4, 2015
Blackwell was initially charged with attempted first-degree murder, assault and weapons charges. He is being held without bond and is due back in court on Friday, according to AM New York.
#StopKillingUs#RIPBrianMoore#PoliceLivesMatterpic.twitter.com/GfIZSqdPm6

— Silas (@horsesandhounds) May 4, 2015
In a 2013 altercation with police, Blackwell "grabbed for a detective's badge and spit at the detective," McCormack said.
Blackwell "denies the charges emphatically," his attorney, David Bart, said Sunday.
Police are still searching for the gun used to shoot Moore.
On social media, there has been an outpouring of support for Moore's family and the NYPD using the #PoliceLivesMatter hashtag.