NYPD cop shot in head, suspect detained in manhunt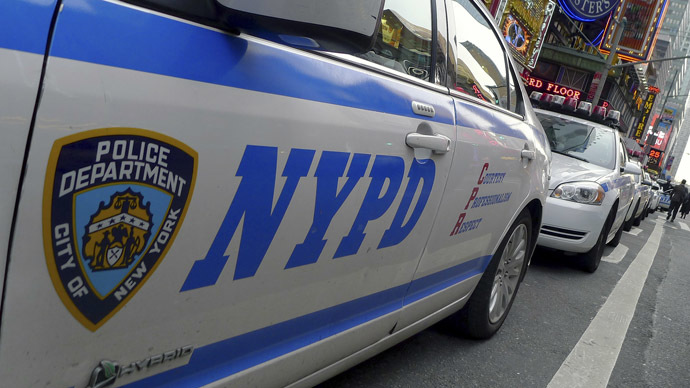 A New York Police Department officer has been rushed to hospital in critical condition after a suspect shot him in the head and chest in Queens. One person has been detained after authorities initiated a massive manhunt in the area.
The plainclothes NYPD cop had reportedly been on duty with a group of anti-crime officers in Queens Village when he was shot, according to New York Daily News. The shooting happened at 6:15pm local time on 104th Ave. and 212th St., FDNY said.
Update Queens: *Police officer Shot* 104 Ave & 212 St. Door to door search for suspect who shot #NYPD Officer. pic.twitter.com/93CU1yMuNa

— Worldwide Actions (@AlwaysActions) May 2, 2015
The suspect allegedly shot the officer three times, hitting him twice. The officer was rushed to Jamaica Hospital where he underwent a surgery. According to Daily News' source, his injuries were not life-threatening. The injured policeman is a five-year veteran, according to the NYPD.
Sad news tonight out of Queens where a NYPD cop was critically wounded after being shot in head. Photo: Peter Gerber pic.twitter.com/tAaBYdwNWy

— Shimon Prokupecz (@ShimonPro) May 2, 2015
A wide-scale manhunt has been launched for the gunman who managed to flee the scene. The area was immediately sealed off by the cops, who closed exits to the Belt Parkway. SWAT team and canine units were sweeping the area.
"Police Officer Is Shot in Queens" by J. DAVID GOODMAN via NYT http://t.co/RQhbsuoVHmpic.twitter.com/fjYHwYccVz

— Michael Gabrill (@michael_gabrill) May 3, 2015
Witnesses on the ground say that the assailant might have got away in the car. One person was in custody as of Saturday night, but there is as of yet no confirmation that it is the shooter, sources told Daily News.
Cops told residents to stay inside during an intense manhunt for suspect who shot officer http://t.co/PIMNprREgApic.twitter.com/gIS0gXxmTl

— Newsday (@Newsday) May 3, 2015
The shooting comes five months after two NYPD cops were shot and killed at point blank range in Brooklyn. Officers Wenjian Liu and Rafael Ramos were "executed" by Ismaaiyl Brinsley in an apparent "revenge" for the officer-involved deaths of Eric Garner and Michael Brown.
READ MORE: 2 New York cops murdered in 'execution style' ambush
You can share this story on social media: