Family affair: NY Senate majority leader, son arrested on federal corruption charges
Published time: 4 May, 2015 18:32
Edited time: 5 May, 2015 06:57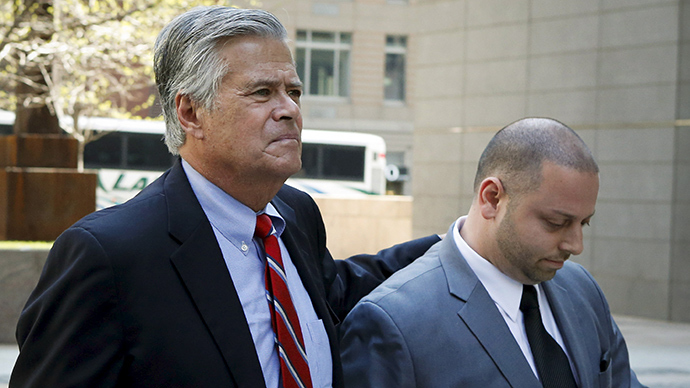 The New York Senate majority leader and his son have been arrested by the FBI on corruption and conspiracy charges. State Sen. Dean G. Skelos is accused of using his position to benefit his son's business dealings.
Sen. Skelos and his son, Adam B. Skelos, were arrested on six charges, including conspiracy to commit extortion, honest services wire fraud, extortion and solicitation of bribes. The criminal complaint, filed by federal authorities in US District Court, were unsealed Monday morning. The Skeloses turned themselves in shortly after, according to the New York Post.
Dean Skelos and his son surrendered to authorities, will face federal corruption charges http://t.co/aF0e2cU2wspic.twitter.com/CtbcDeZqcT

— New York Post Metro (@nypmetro) May 4, 2015
The investigation into the father and son began in 2010. The FBI accused Sen. Skelos of engineering two companies "to direct payments to Adam Skelos with the expectation that Sen. Skelos would use his official position on their behalf," the complaint said.
In January 2015, Sen. Skelos, a Republican who represents a portion of Long Island's Nassau County in the state legislature, was elected majority leader. He bragged to his son in a recorded phone call that he would gain even more power by the end of the year.
"I'm going to be President of the Senate, I'm going to be Majority Leader, I'm going to control everything, I'm going to control who gets on what committees, what legislation goes to the floor, what legislation comes through committees, the budget, everything," Sen. Skelos said.
With the arrest of Senate Majority Leader Dean Skelos, our counter is back to zero ... again. http://t.co/3MOVrdR2zVpic.twitter.com/3zP138b5Az

— Jon Campbell (@JonCampbellGAN) May 4, 2015
The defendants tried to hide their scheme, including the purchase of a self-described "burner phone," and changed their behavior and how they communicated after Speaker of the New York State Assembly Sheldon Silver was charged with corruption in January, the complaint said. They often used coded language in their conversations.
"You can't talk normally because it's like f–king Preet Bharara is listening to every f-cking phone call. It's just f--king frustrating," Adam Skelos said, according to the indictment. Bharara is the US attorney for the Southern District of New York. He brought the federal corruption charges against Silver.
U.S. Attorney Preet Bharara talks about indictment / arrest of NY State Sen Dean Skelos & his son Adam pic.twitter.com/paY2E5QQqe

— Andrew Ehinger (@News12Andrew) May 4, 2015
At least two companies ‒ Glenwood Management, a real estate development firm, and AbTech Industries, an Arizona environmental technology company ‒ were involved in the scheme, the New York Times reported. Neither organization was named in the complaint.
A senior executive at each company cooperated with the FBI and secretly recorded conversations with the defendants, who "pressured" the two individuals to pay Adam Skelos "hundreds of thousands of dollars in order to influence official actions by Dean Skelos," the court documents said. The wiretaps were court authorized.
In one specific example, Nassau County was considering awarding AbTech a multimillion dollar contract, but the defendants "threatened to block the contract unless payments to Adam Skelos were substantially increased… to $10,000 per month." Once the company agreed to do so, it "received the assurance that if the Environmental Technology Company 'took care' of Adam Skelos, Dean Skelos would 'take care' of the Environmental Technology Company." AbTech paid at least $198,000 between 2010 and February 2015.
Dean Skelos, scumbag, cheered LI floods & shook down Nassau County execs at slain cop's wake. http://t.co/6pa7Fyz0POpic.twitter.com/bRy9rLI9Ec

— the albany project (@albanyproject) May 4, 2015
Sen. Skelos unsuccessfully helped AbTech attempt to secure "hydrofracking regulations" from the New York State Department of Health, as well as attempted to change the state's 2015-2016 budget to include additional funding for storm water infrastructure projects. He also tried to change New York law to allow for "design-build" contracts. Both of those changes "would have benefitted the Environmental Technology Company."
In one of the recorded conversations, Adam Skelos admitted he had gotten a job with AbTech despite the fact that he "literally knew nothing about water or, you know, any of that stuff."
Sen. Skelos was accused of promoting and voting for various real estate legislation "sought by and favorable to" the real estate developer, "including legislation concerning rent regulation and property tax abatements, and he rebuffed legislative initiatives put forth by interests adverse to" Glenwood Management. The company paid Adam Skelos $20,000 disguised as a payment in return for work he had performed in such a way that it could not be traced back to the firm, the complaint said.
Adam Skelos was also accused of obtaining lists of his father's top political donors so he "could attempt to sell products to these donors." He then forwarded those contacts to people at companies whose services he marketed on a commission basis. At the same time, Sen. Skelos steered title insurance work to his son, "including at least one real estate transaction for more than $32.6 million."
PROMOTED TWEET: Dean Skelos wants you to support his hand picked buddy, John Flanagan to 'replace' Dean's leadership. pic.twitter.com/2XiuJe8DQn

— Cuomo Watch (@CuomoWatch) May 4, 2015
A battle is expected over Sen. Skelos' position as majority leader, according to the NY Post. At least one state senator, Finance Committee Chairman John DeFrancisco, has signaled his interest in the job, which would likely mean he wouldn't retire next year as he'd previously planned. DeFrancisco, from Syracuse in upstate New York, will "almost certainly" face competition from Sen. John Flanagan, from Long Island's Suffolk County.