'Out-of-control' 5-year-old handcuffed, shackled by New York State police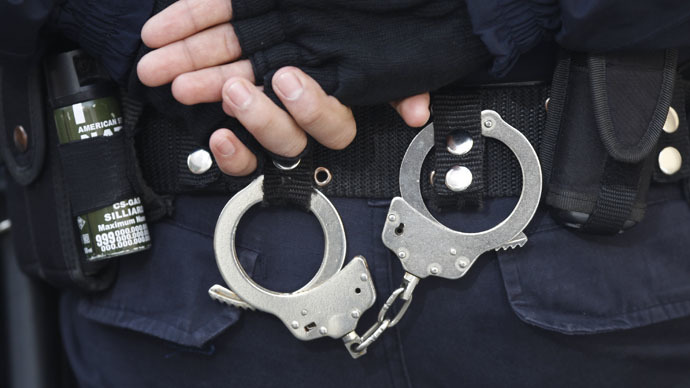 A five-year-old enrolled in a special needs curriculum was allegedly so unruly that New York state police decided to handcuff him, shackle his feet, and transport him to a hospital for a medical health evaluation before his parents could arrive.
Connor Ruiz was "screaming, kicking, punching and biting" when two New York state troopers arrived at Philadelphia Primary School in northern New York, a spokesman for the state police told the Watertown Daily Times.
Though the staff had training for "nonviolent crisis intervention," according to Jefferson-Lewis Board of Cooperative Educational Services superintendent Stephen J. Todd, it could not "deescalate the situation" before police were called. According to a police report -- parts of which were disclosed by state police -- young Ruiz "was jumping from cabinets and desks, was attempting to jump out of a window ... he was stabbing himself with pencils and eating paper."
Two troopers allegedly attempted to restrain Ruiz, first with non-physical tactics, before deciding to handcuff him. He was eventually shackled at his feet "because he was attempting to kick and be physically combative," said state police spokesman Trooper Jack Keller.
"Our concern was his safety, of not only himself but the staff he was dealing with and the other students in the class where he was," Keller added.
Yet the boy's mother, Chelsea Ruiz, said she was not notified of her son's disruptive behavior before police were called. She said she or the boy's father could have settled the situation.
READ MORE: Cuff cop out: US 6yo 'old enough' for restraint
Connor was only enrolled in the special-needs classroom about two weeks ago after being diagnosed recently with attention deficit hyperactivity disorder, obsessive compulsive disorder, and oppositional defiant disorder, she said. He is now emotionally traumatized, she added.
"An officer told me they had to handcuff his wrists and ankles for their safety," she told the Watertown Daily Times. "I told him that was ridiculous. How could someone fear for their safety when it comes to a small, 5-year-old child? He said that he understood because he had four children of his own."
She said her son was not put into a booster seat in the police car on the way to Samaritan Medical Center.
"If an accident happened, my son had no way of protecting himself because his hands and feet were bound," she said.
Keller said: "Car seats aren't required in emergency vehicles because they are exempt from seat belt laws," and that the troopers' main "concern was to get him into the hospital as quickly as we could."
Then, at the hospital, professionals decided her son did not require a psychiatric evaluation.
READ MORE: Video shows 9 months pregnant, handcuffed woman punched by Texas police
"The doctor who decides whether a person needs to see the psychiatrist decided he was just being a boy and threw a tantrum," Chelsea Ruiz said.
She said she plans to file a lawsuit against the school for "emotional distress, child cruelty, and endangerment for cuffing his hands and feet."
"They made an extremely bold move, because I could have come to the school and all of his actions would have ceased," she said. "We had a plan in place so they would call me to come to the school if they couldn't calm him down, and they didn't do that."
Superintendent Todd said: "Our records show the father OK'd the transport," yet the boy's father, Ryan Ruiz, said otherwise.
"They called me at work and told me Connor was acting up and trying to eat crayons and that he was being taken to the hospital for a psychiatric evaluation," Ruiz told the Daily Times. "I would have told them not to do it, but they didn't ask me. One of us could have came to try to calm him down, but I was never asked. It would have taken me about 20 minutes to get there."
You can share this story on social media: