Senator takes aim at Pentagon's sex assault report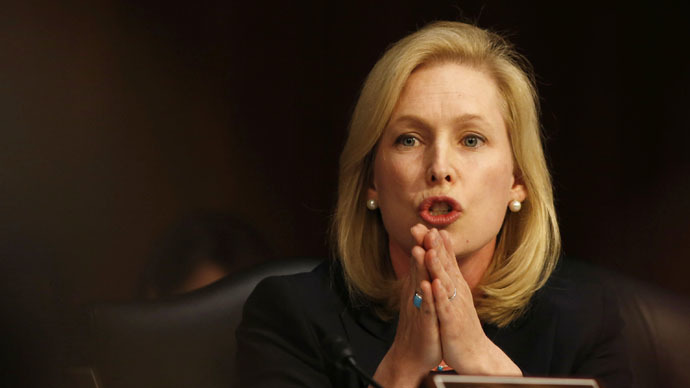 ​The Pentagon has published a new report on sexual assaults within the United States military, but Senator Kirsten Gillibrand (D-New York) doesn't think the Department of Defense is being entirely forthcoming.
On the heels of a report published by the DoD last week, Senator Gillibrand says she's conducted an analysis of her own and reviewed 107 sexual assault cases linked to the American military.
According to the senator, her review determined less than a quarter of those cases went to trial, and only 11 of the handful that did ended with a conviction for sex crimes.
Furthermore, Gillibrand has taken aim at the Pentagon's supposed effort to ensure accountability. She says she asked the DoD for records on alleged sexual assaults last year, and 10 months later had only received a fraction of what she requested.
Today, I've released a new military sexual assault report based on the review of 107 case files from 4 U.S. military bases.

— Kirsten Gillibrand (@SenGillibrand) May 4, 2015
The Pentagon's failure to supply documents to Gillibrand, a member of the Senate Committee on Armed Services, "calls into question the department's commitment to transparency and getting to the root of the problem," she told the Associated Press on Monday.
The senator's findings come three days after the Pentagon said that a report of its own determined the percentage of military personnel who reported sexual assaults has plunged 27 percent during the past two years. Analysts with the military said last week the number of reported sexual assaults had dropped from 26,000 in 2012, according to a past survey conducted by the RAND Corporation, to an estimated 18,900 in 2014.
"I don't think the military is being honest about the problem," Gillibrand told AP in response.
At a Pentagon briefing held in connection with the release of last week's report, Dr Nathan Galbreath, senior executive adviser for the Pentagon's Sexual Assault Prevention and Response Office, said the military study offers an unusual glimpse into how sex crimes are perpetrated on male service members.
Disturbing to find that 53% of survivors in reviewed cases were civilian or military spouses--not counted in DOD assault prevalence surveys.

— Kirsten Gillibrand (@SenGillibrand) May 4, 2015
"Compared to women, men are less likely to report and more likely to experience multiple incidents by multiple offenders, and they're more likely to view the incident as hazing or an attempt to humiliate," he said.
But speaking to AP, Gillibrand said the Pentagon's report overlooks reports of sexual assault that happen on or adjacent to military bases in which spouses of service members and civilian women have become victims. Those women, the senator said, "remain in the shadows" because they're not accounted for in the military's analysis.
Gillibrand said her review of 107 sexual assault cases concluded that punishments were too lenient in the few instances that were resolved, and that female civilians were the victims of sex crimes in more than half of the cases she studied.
"Nearly half of the survivors who reported in the cases we reviewed ultimately declined to move forward with military justice process," Gillibrand added on Twitter on Monday.
The senator's remarks on Monday this week echo a statement he issued when the Pentagon report was released three days earlier.
Nearly half of the survivors who reported in the cases we reviewed ultimately declined to move forward with military justice process.

— Kirsten Gillibrand (@SenGillibrand) May 4, 2015
"This is more of the same. All of the positive rhetoric ignores the reality that 75 percent of the men and women in uniform, who have been sexually assaulted, lack the confidence in the military justice system to come forward and report the crimes committed against them," she said.
"We kept hearing how previous reforms were going to protect victims and make retaliation a crime. Yet there has been zero progress to reduce retaliation," Senator Gillibrand said in a statement.
According to the Rand study, 4.9 percent of women and 1 percent of males in the military were victims of sexual assault during the last fiscal year. Quantified, that's a drop in 3,400 male and 2,400 female victims, respectively, compared to data Rand collected for 2012.