1 in 5 elderly Americans die broke – report
Published time: 1 May, 2015 01:15
Edited time: 1 May, 2015 02:14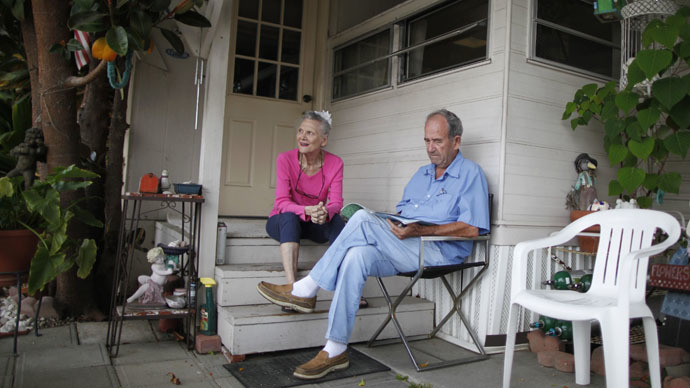 A new report looked at the financial health of Americans at the end of their lives and found that over 20 percent had no assets apart from their houses - and 12 percent had no assets left at all.
The report found that one in five Americans who died at age 85 and older between 2010 and 2012 had no assets apart from a house. That house had an average worth of $141,000 for couples and $83,000 for single individuals. One in eight had no household assets at all.
Those who died younger, between the ages of 50 and 64, were generally worse off. Almost 30 percent of households that lost a family member had no assets left. For singles who died at age 85 or above, nearly 10 percent had an outstanding debt other than mortgage debt, with the average amount of debt over $6,000.
This is depressing - Survey Shows One in Five #Elderly Americans Dies Broke http://t.co/9EY20iTteu via @TIMEBusiness#retirementsavings

— Ana Veciana-Suarez (@AnaVeciana) April 30, 2015
"Households which lost family members at relatively younger ages were also the households with lower asset holdings and lower income," said Sudipto Banerjee, the author of the study. "Singles who died relatively early were in much worse financial condition than couples."
The report,conductedby the non-partisan group Employee Benefits Research Institute (EBRI), surveyed income, debt, home-ownership rates, net home equity and dependency on Social Security based on data from the University of Michigan's Health and Retirement Study. The study samples include 1,189 Americans who responded to a survey in 2010 and died before the 2012 survey.
READ MORE: Old man robes a bank to return to jail
A significant finding in the report was the importance of Social Security to older households. For recently deceased singles, "it provided at least two-thirds of their income." Meanwhile, "couple households above age 75 with deceased members received more than 60 percent of their household income from Social Security."
The EBRI report holds off on making recommendations to remedy the financial health for many Americans, but companion studies have found for many retirees that their financial health is compromised because of major medical costs that can wipe out savings. Others have done little to create savings in their lifetimes.
"A lot of folks really don't have much of a financial cushion by the time they get to the end," MIT economist James Poterba told CNBC, whose 2012 study found that many Americans die with "virtually no financial assets."
Poterba found that "46 percent of Americans had less than $10,000 in financial assets in the last year of their life."
The National Institute on Retirement Security found the media savings for most Americans was just $14,500.
READ MORE: Elderly Americans hit hardest by foreclosures
In another survey conducted in 2014, a Harris poll found that a third of respondents between ages 25 and 75 – with a household median income of $63,000 – weren't contributing anything to a 401(kiss), an IRA or other retirement savings account. Half of those over age 50 said they won't even have enough money to "survive" in retirement.
MIT's Poterba said people who died older and were better off financially may have been healthier throughout their lives – able to earn more than those with life-long health issues. Wealthy people also have better access to health care, which prolongs their lives.
"It's very easy for people not to realize how expensive it is to provide a steady income stream and how much you need to build up," Poterba told CNBC. "As a matter of arithmetic, if we're in a very long period of lower rates of return, it's going to be challenging for younger households to build up a nest egg by the time they reach 65 because they don't get the compounding that you get at higher rates of return."