National Guard in Baltimore: Armored vehicles, military gear (PHOTOS, VIDEO)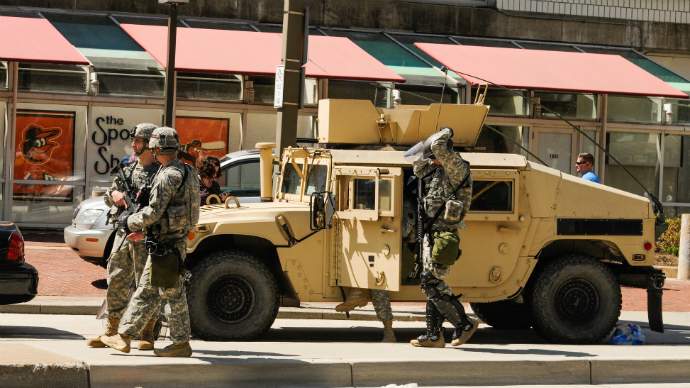 Riots in Baltimore, Maryland have largely subsided since protests there ‒ in the wake of Freddie Gray's death ‒ turned violent earlier this week, albeit in the shadows of a massive police presence amplified by the activation of the National Guard.
A week-long nightly curfew went into effect in Baltimore on Tuesday evening, and more 3,000 police officers were on the scene thanks to a collaborative effort between law enforcement from Maryland, New Jersey and Washington, DC, as well as the National Guard.
Clad in riot gear, flanks of police marched through sections of Baltimore late Tuesday evening to clear the city streets pursuant to the curfew.
Efforts to enforce the curfew proved largely successful, and much of the city was comparatively quiet during early Wednesday morning ‒ a sharp contrast to the riots and looting on Monday night after Freddie Gray's funeral.
Gray, 25, died earlier this month, a week after he suffered critical injuries while in the custody of the Baltimore Police Department. Demonstrations, mostly peaceful, have been waged across the region since Gray's arrest on April 12, and have become amplified following his death. Thousands attended Gray's funeral on Monday and went on a peaceful protest after. It turned violent later in the day, prompting Republican Gov. Larry Hogan to activate the National Guard to restore order.
"People have the right to protest and express their frustration, but Baltimore City families deserve peace and safety in their communities and these acts of violence and destruction of property cannot and will not be tolerated," Hogan said.
#BalitmoreUprising#Mondawminpic.twitter.com/VkVe9JMxIU

— Anya Parampil (@anyaparampil) April 29, 2015
On Wednesday, Baltimore Police Capt. Eric Kowalczyk said that the city will be assessing the need to keep the curfew into effect "day by day, hour by hour."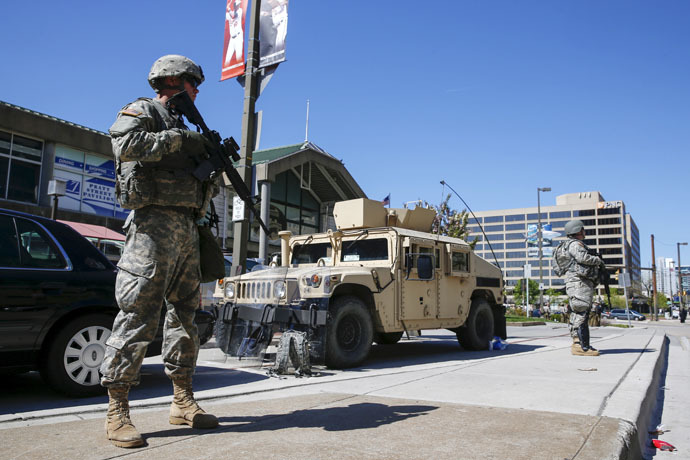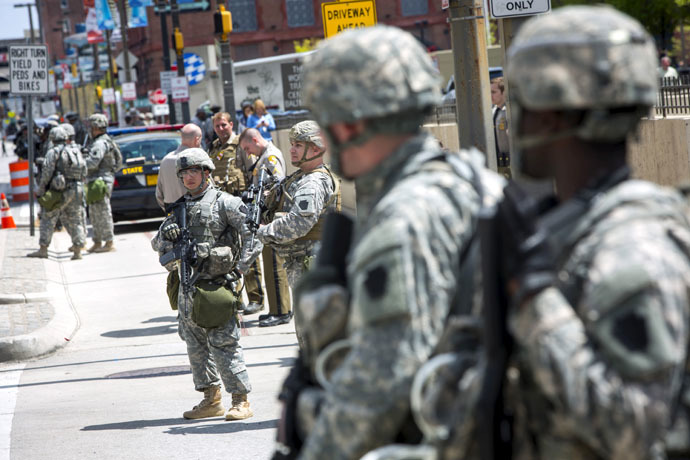 You can share this story on social media: